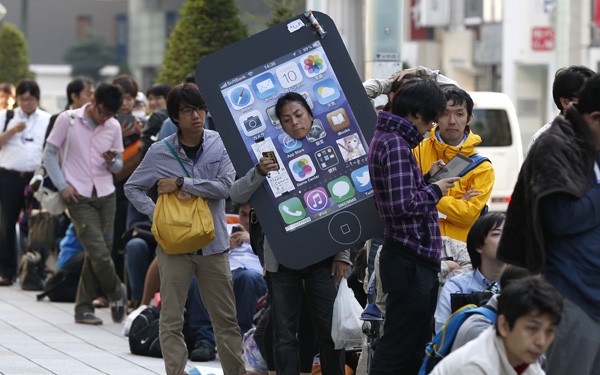 Last week, Apple confirmed to host an event on 9 September, hinting the company is ready to showcase the new-generation smartphones and with the release of live streaming web-page of the event as incited huge excitement among Apple fans.
According to numerous reports twirling in the internet, the new iPhone 6 series will have bigger screen, faster CPU and many major upgrade over the 2013 model, iPhone 5S.
To give better perspective on the upcoming iPhone 6 series smartphone specifications, price and release date details, we have leafed through numerous reports and have lined together a list of probable key features, which are likely to make the cut.
Apple iPhone 6 Display and Design Details:
Earlier this week, arch-rival Samsung launched the Galaxy Note 4. Though it got panned for moderate upgrade over its predecessor, Galaxy Note 3, many tech critics have opined that the new Samsung phablet is still the best in the market.
However, Apple is looking to come hard on Samsung this year with the launch of big-screen iPhone, which is touted to be the first true rival to challenge the phablet leader.
As per numerous reports, Apple is all but certain to launch two new big-screen smartphones - one 4.7-inch and another 5.5-inch with slim body, inspired from the ultra-sleek premium tablet - iPad Air.
The 4.7-inch model (iPhone 6) is said to feature in-cell technology-based sapphire display with pixel density close to 416 ppi (pixels per inch).
Whereas the 5.5-inch model (iPhone 6L aka iPhone Air) is said to flaunt the retina IGZO display with 2,272x1,280p resolution, reported market watch dog, KDB Daewoo Securities).
However, the Apple phablet won't be boast of in-touch panel technology as the company supply partners were having trouble incorporating this in the big-screen and to keep up with the fast approaching launch date they had to abandon the In-touch feature.
As far device dimensions are concerned, 4.7-inch model will have 138.0 x 66.0 x 6.9 mm dimensions, where as 5.5-inch model measures - 158.0 x 78.0 x 7.1 mm. Apple iPhone 5S had 7.9mm thickness, reported iGen, citing leaked internal document of Foxconn.
These new iPhones won't be just slim and large, but curvier as well.
Apple iPhone 6 Processors, RAM, Storage Details:
Just a few days ago, China Mobile accidently (or intentionally?) opened the promotional pre-order web-page at the official company website; revealing a few key specifications of the new iPhone 6 series smartphones.
Once the report got out, the company pulled the webpage off the internet, but by then some of the tech blogs had already taken screenshot of the site.
Besides confirming the existence of 4.7-inch (416 ppi) and 5.5-inch iPhone 6 smartphones, it also revealed (courtesy ZDNet China) that new devices will ship with the new A8 series Apple processors.
Apple A8 processor is 20-nm class based CPU, which has ability to function efficiently with limited 1GB RAM.
As far as memory specification is concerned, the new iPhones are expected to come in three variants - 16GB, 32GB and 64GB and won't be accompanied with micro-SD card support.
[Also read: Apple iPhone 6 Launch Live Stream: Watch New Smart Devices Unveiling Online]
Apple iPhone 6 Camera Specifications Details:
According to reports, Apple is said to keep the camera pixel-count in the main camera similar to its predecessor, but in its bit to enrich the photography experience, it has incorporated True-tone LED flash and other value-added features.
Both iPhone 6 models will flaunt 8.0-megapixel main camera and to win the hearts of selfie enthusiasts, the company has reportedly installed 3.2-megapixel snapper on the front side.
[Note: More mega-pixel count in the camera does not guarantee a good quality photograph. It all depends on the type of the lens, size and the aperture.]
Apple iPhone 6 Mobile Operating System Details:
Like all previous years, iPhone 6 series will ship with new iOS, this year version 8. The company has already detailed some of the key features accompanying the new operating system in June at the WWDC (World Wide Developers Conference) 2014.
The new iOS is said to bring in new messaging app, iCloud photo library, healthkit app, iCloud Drive, intuitive QuickType keyboard, new enhanced voice-assistant- Siri, Family sharing options and tons of new features. [For more information, click here]
Apple iPhone 6 Release Date Details:
Apple has confirmed to hold an event (media-invitees only) on 9 September at Flint Centre for the Performing Arts in Cupertino, California, USA.
If history is taken as any guide, Apple will make the new iPhone models available in the market within two weeks after the official unveiling and if a report from China is to be believed, the new Apple smartphones might hit stores on 19 September.
Apple is betting high on record revenue this holiday season as it has reportedly begun shipping huge quantities of iPhone 6 series (numbering more than 60 million) smartphones out of the Chinese assembly plants leading to delay in device shipments of rival brands, reported Tech Crunch, citing sources.
The prospect of large screens featuring in the upcoming iPhone 6 series handsets has reportedly spiked the consumer interest level in Apple products, compared to previous years.[Full report here]
Market analyst firm 451 Research's 'ChangeWave' study, which has focused largely on North American population, has reported that 14 percent of the interviewed consumers (total of more than 4,000) have opined 'very likely' to buy the Apple's yet-to-be-announced iPhone 6, whereas 26 percent people were 'somewhat likely' to buy the new Apple phone.
2013 model, iPhone 5S had garnered only a nine percent 'very likely' responses from the people (before its official launch). The same firm's another survey says that 47 percent of respondents informed they are inclined to buy 5.0-inch (or bigger) smartphones.
Going by the data, Apple is likely to have a windfall sales of iPhone 6 devices this fall season and will probably close the gap with the reigning smartphone leader and archrival Samsung, which recently launched the fourth generation Galaxy Note 4.
Apple iPhone 6 Price Details:
Earlier this week, An Apple promotional flyer got leaked in Hong Kong (now available with TK Tech News), revealing the upcoming iPhone 6 series smartphones' prices.
According to the listing, Apple iPhone 6 (4.7-inch) 16GB, 32GB and 64GB models would cost HKD 6,663 (around $860/€660/₹51,800), HKD 7,671 (around $990/€761/₹59,600) and HKD 8,679 (around $1,120/€860/₹67,450) respectively.
On the other hand, the 5.5-inch iPhone 6L – 16GB, 32GB and 64GB variants would come with a whopping price-tag of HKD 7,923 (around $1,022/€785/₹61,560), HKD 8,931 (around $1,152/€885/₹69,400) and HKD 9,687 (around $1,250/€960/₹75,260) respectively.
Expected Specifications of Apple iPhone 6 (aka iPhone Air) and iPhone 6L (iPhone Pro):

| | | |
| --- | --- | --- |
| Model | Apple iPhone 6 aka iPhone Air | Apple iPhone 6L aka iPhone Pro |
| Display | 4.7-inch/4.8-inch screen with full HD (1,920x1,080p) resolution (with in-cell LCD technology), pixel density: 440 ppi (pixels per inch) | 5.5-inch retina IGZO display with 2,272x1,280p resolution, pixel density: 510 ppi |
| OS | Apple iOS v8.0 | Apple iOS v8.0 |
| Processor | 64-bit A8 chipset | 64-bit A8 chipset |
| RAM | 1GB | 1GB |
| Storage | 16GB/32GB/64GB | 16GB/32GB/64GB |
| Camera | Main: 8.0-megapixel camera with true tone flashFront: 3.0-megapixel | Main: 8.0-megapixel camera with true-tone flashFront: 3.0-megapixel |
| Battery | 2,100 mAh | 2,100 mAh |
| Network | 4G-LTE | 4G-LTE |
| Add-ons | Finger-print sensor (much better Tough-ID security feature), Wi-Fi, Bluetooth, NFC | Finger-print sensor, Wi-Fi, Bluetooth, NFC |
| Dimensions | 138.0 x 66.0 x 6.9 mm | 158.0 x 78.0 x 7.1 mm |
| Prices (in HKD) | 16GB: 6,663 (around $860/€660/₹51,800);32GB: 7,671(around $990/€761/₹59,600);64GB: 8,679(around $1,120/€860/₹67,450); | 16GB: 7,923(around $1,022/€785/₹61,560);32GB: 8,931(around $1,152/€885/₹69,400);64GB: 9,687(around $1,250/€960/₹75,260); |