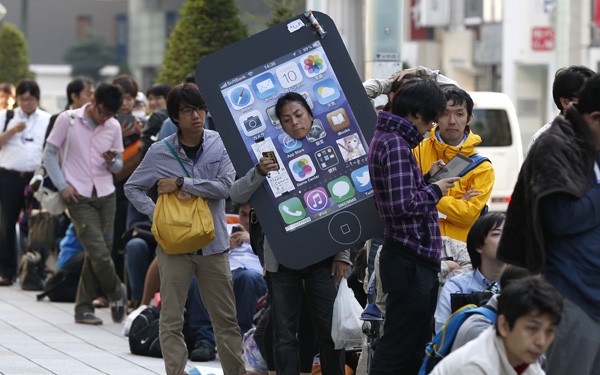 Going by the numerous reports twirling in the media, American technology giant Apple Inc., in all certainty, is set to make a major overhaul in its 2014 edition of iPhone - known as iPhone 6 (aka Air) - and iPhablet.
The devices' specifications has been reportedly detailed by a popular market watchdog. KGI Securities' market analyst Ming Chi-Kuo, in his note (now in the hands MacRumors) to loyal investors, has revealed the alleged specifications of the Apple iPhone 6 series devices, which are speculated to debut this fall (around September).
In the memo, he said Apple iPhone 6 (standard successor to 4.0-inch iPhone 5S) would boast a bigger 4.7-inch display with (1334x750p) Retina display, having pixel density of 326 ppi (pixels per inch). And to compensate the large screen, the phone's bezel has reportedly been reduced closed to 6-7 mm for one-handed usage; hence the rumoured name iPhone Air. [Note: iPhone 5S has 7.6 mm thickness]
The iPhablet, on the other hand, is said to flaunt a 5.5-inch full HD (1920x1080p) screen with pixel density of 401 ppi.
Both models are expected ship with the new-generation 64-bit architecture Apple A8 processor, 1GB RAM, Touch ID fingerprint sensor, 8.0-megapixel camera with f2.2 aperture (with the possibility of featuring OIS: Optical Image Stabilizations), NFC and slightly larger battery (50-70 percent more watts power to feed energy-sapping iPhablet's large screen).
Though there is no proof to authenticate Mr. Chi-Kuo's disclosure, his good track-record of predictions on technology related products in the past has been the main reason for the media attention. Moreover, most of the specifications revealed by the analyst is in line with previous reports.
The prospect of a large screen featuring in the upcoming iPhone 6 series handsets has reportedly spiked the consumer interest level in Apple products, compared to previous years.
Market analyst firm 451 Research's 'ChangeWave' study, which has focused largely on North American population, has reported that 14 percent of interviewed consumers (total of more than 4,000) have opined 'very likely' to buy the Apple's yet-to-be-announced iPhone 6, whereas 26 percent people were 'somewhat likely' to buy the new Apple phone.
In March 2013, iPhone 5S had garnered only a 9 percent 'very likely' responses from the people. The same firm's another survey says that 47 percent of respondents informed they are inclined to buy 5.0-inch (or bigger) smartphones.
Going by the data, Apple is likely have windfall sales of iPhone 6 devices this holiday season and will probably close the gap with the reigning smartphone leader and archrival Samsung.
(Ed: VP)
Rumored Specifications of Apple iPhone 6 and iPhablet
| | | |
| --- | --- | --- |
| Model | Apple iPhone 6 | Apple iPhablet |
| Display | 4.7-inch/4.8-inch screen with (1334x750p) Retina display, having pixel density of 326 ppi (pixels per inch) | 5.5-inch full HD (1920x1080p) screen with pixel density of 401 ppi |
| OS | Apple iOS v8.0 | Apple iOS v8.0 |
| Processor | 64-bit A8 chipset | 64-bit A8 chipset |
| RAM | 1GB | 1GB |
| Storage | 16GB/32GB/64GB/128GB | 16GB/32GB/64GB/128GB |
| Camera | Main: 8.0-megapixel cameraFront: 3.2-megapixel | Main: 8.0-megapixel cameraFront: 3.2-megapixel |
| Battery | 1800 mAh | much bigger battery capacity (50-70 percent more than the current iPhone 5S) |
| Network | 4G-LTE | 4G-LTE |
| Add-ons | Wi-Fi, Bluetooth, NFC | Wi-Fi, Bluetooth, NFC |