Cupertino-based technology behemoth Apple was slated to host a big event at Steve Jobs Theater on March 25, where new iPads along with the announcement of foraying in to the multimedia streaming service business, but to everyone's surprise unveiled the new generation tablets—iPad Air (3rd gen) and iPad mini (5th gen) a week before the D-Day.
The new iPad Air holds on to some key aspects of the predecessor such as the Touch ID, but is incorporated with a powerful processor, improved camera and also comes with support for Apple Pencil, which will greatly benefit professional users and to children for learning educational concepts from apps like Froggipedia and others.
The iPad Air (3rd gen) features a 10.5-inch retina display, Apple's proprietary A12 Bionic with M12 coprocessor and embedded Neural engine, which will make the device work buttery smooth be it playing graphics-rich Augmented Reality (AR) gaming, using multiple apps, watching HD videos and several other tasks.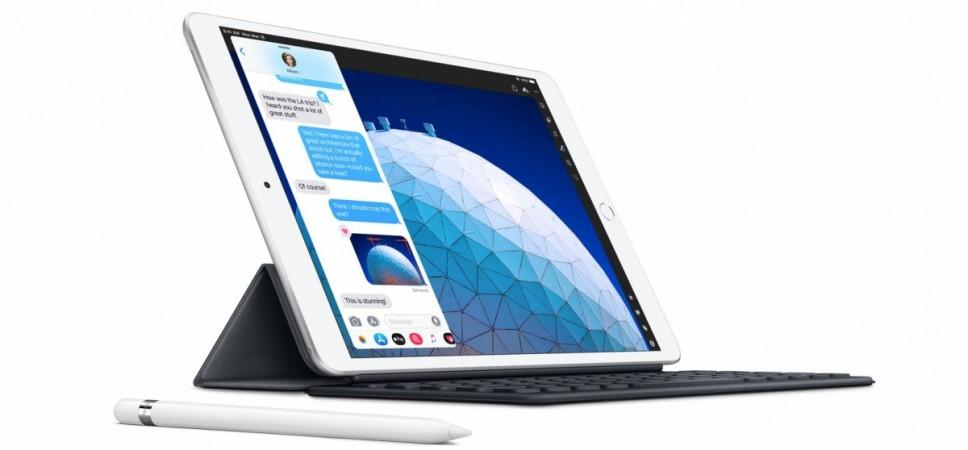 "With the A12 Bionic chip with Apple's Neural Engine, the new iPad Air delivers a 70-percent boost in performance and twice the graphics capability, and the advanced Retina display with True Tone technology is nearly 20-percent larger with over half a million more pixels," the company says.
It also comes with a big battery, which offers up to 10 hours of surfing the web on Wi‐Fi, watching the video, or listening to music. The new iPad Air also comes with 8MP primary shooter on the back and a 7MP FaceTime camera for video chatting.
On the other hand, the iPad mini (5th gen) too, features similar hardware seen in the new iPad Air, but as the same suggests comes in smaller 7.9-inch Retina display.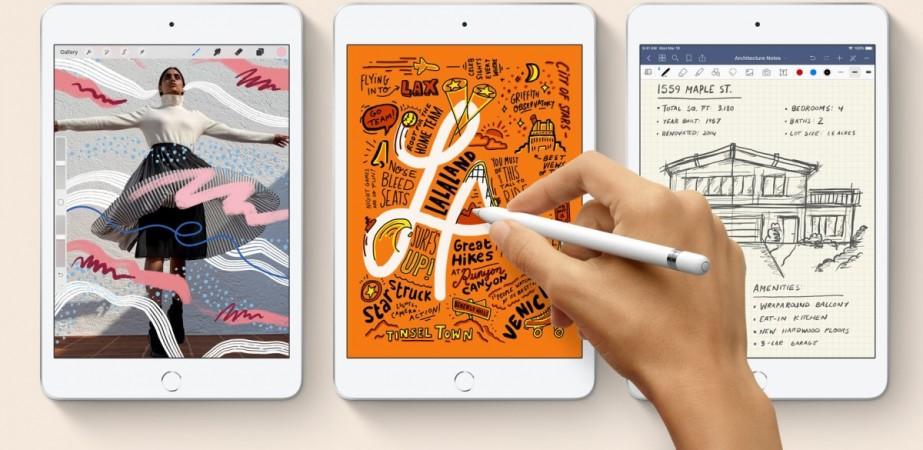 Like its bigger sibling, the new iPad mini with Apple A12 Bionic is a powerful multitasking machine, delivering three times the performance and nine times faster graphics. The advanced Retina display with True Tone technology and wide colour support is 25 percent brighter and has the highest pixel density of any iPad, delivering an immersive visual experience in any setting.
And with Apple Pencil support, the new iPad mini is the perfect companion of youth or professionals, take-anywhere notepad for sketching and jotting down thoughts on the go.
Apple iPad Air and iPad mini price and availability details:
The new iPad mini and iPad Air come in silver, space grey and gold finishes in 64GB and 256GB configurations. The new iPad mini starts at Rs 34,900 for the Wi-Fi model and Rs 45,900 for the Wi-Fi + Cellular model and the 10.5-inch iPad Air starts at Rs 44,900 for the Wi-Fi model and Rs 55,900 for the Wi-Fi + Cellular model.
Apple has not officially revealed the release date, but the new iPads are expected to be made available for purchase in April.
Besides the new iPad Air and the mini, the company is offering Apple Pencil (1st generation) for Rs 8500. The Smart Keyboard for the 10.5-inch iPad Air is available for purchase separately for Rs 3500 with layouts for over 30 languages, including simplified Chinese, French, German, Japanese and Spanish.
There is also Polyurethane Smart Covers available for Rs 3500 for iPad mini and Rs 3700 for iPad Air in charcoal grey, white, pink sand and new papaya, with additional Leather Smart Covers available for iPad Air in black, saddle brown, midnight blue and red.
Key specifications of Apple iPad Air 3rd Gen and iPad mini 5th Gen:
Models
iPad Air 3rd Gen
iPad mini 5th Gen
Display
10.5-inch LED-backlit with multi-touch Retina display

Resolution: 2224x1668p
Pixel density: 264 ppi (pixels per inch)
Fingerprint-resistant oleophobic coating
Fully laminated display
Anti-reflective coating
Wide colour display (P3)
True Tone display
500 nits brightness
1.8% reflectivity
Supports Apple Pencil

7.9-inch LED-backlit with multi-touch Retina display

Resolution: 2048x1536p
Pixel density: 326 ppi (pixels per inch)
Fingerprint-resistant oleophobic coating
Fully laminated display
Anti-reflective coating
Wide colour display (P3)
True Tone display
500 nits brightness
1.8% reflectivity
Supports Apple Pencil

OS
Apple iOS 12 ( v12.1 released)
Apple iOS 12 ( v12.1 released)
Processor
(64-bit desktop-class architecture) Apple A12 Bionic (2.5GHz Vortex x 2+ 1.59GHz Tempest x 4) + Neural Engine + M12 coprocessor
(64-bit desktop-class architecture) Apple A12 Bionic (2.5GHz Vortex x 2+ 1.59GHz Tempest x 4) + Neural Engine + M12 coprocessor
Storage
64GB/256GB
64GB/256GB
Main Camera
8MP with F2.4 aperture, Five-element lens, Hybrid IR filter, Backside illumination, Live Photos, Autofocus, Panorama (up to 43-megapixels), HDR for photos, Exposure control, Burst mode, Tap to focus, Timer mode, Auto image stabilisation, Photo geotagging
8MP with F2.4 aperture, Five-element lens, Hybrid IR filter, Backside illumination, Live Photos, Autofocus, Panorama (up to 43-megapixels), HDR for photos, Exposure control, Burst mode, Tap to focus, Timer mode, Auto image stabilisation, Photo geotagging
Front camera
7-megapixel photos, F2.2 aperture, 1080p HD video at 30fps, Retina flash, wide color capture for photos and live photos, Auto HDR for photos and videos, backside illumination, burst mode, exposure control, timer mode
7-megapixel photos, F2.2 aperture, 1080p HD video at 30fps, Retina flash, wide color capture for photos and live photos, Auto HDR for photos and videos, backside illumination, burst mode, exposure control, timer mode
Video

1080p HD video recording
Slow-motion video at 120fps
Time-lapse video with stabilisation
3x video zoom
Video geo-tagging

1080p HD video recording
Slow-motion video at 120fps
Time-lapse video with stabilisation
3x video zoom
Video geo-tagging

Battery
All models:

Built‐in 30.2‐watt‐hour rechargeable lithium‑polymer battery
Up to 10 hours of surfing the web on Wi‐Fi, watching a video, or listening to music
Charging via power adapter or USB to computer system

Wi-Fi + Cellular models:

Up to 9 hours of surfing the web using the cellular data network

All models:

Built‐in 30.2‐watt‐hour rechargeable lithium‑polymer battery
Up to 10 hours of surfing the web on Wi‐Fi, watching a video, or listening to music
Charging via power adapter or USB to computer system

Wi-Fi + Cellular models:

Up to 9 hours of surfing the web using the cellular data network

Security
Touch ID:

Secure personal data within apps
Make purchases from the iTunes Store, App Store, and Apple Books

Touch ID:

Secure personal data within apps
Make purchases from the iTunes Store, App Store, and Apple Books

Connectivity
All models:

Wi-Fi (802.11a/b/g/n/ac); simultaneous dual-band (2.4GHz and 5GHz); HT80 with MIMO and Bluetooth 5.0 technology

Wi-Fi+ Cellular:

UMTS/HSPA/HSPA+/DC-HSDPA (850, 900, 1700/2100, 1900, 2100 MHz); GSM/EDGE (850, 900, 1800, 1900 MHz)
Gigabit-class LTE (Bands 1, 2, 3, 4, 5, 7, 8, 11, 12, 13, 14, 17, 18, 19, 20, 21, 25, 26, 29, 30, 34, 38, 39, 40, 41, 46, 66, 71)
Data only
Wi-Fi calling

SIM Card: e-SIM (not available in China)

All models:

Wi-Fi (802.11a/b/g/n/ac); simultaneous dual-band (2.4GHz and 5GHz); HT80 with MIMO and Bluetooth 5.0 technology

Wi-Fi+ Cellular:

UMTS/HSPA/HSPA+/DC-HSDPA (850, 900, 1700/2100, 1900, 2100 MHz); GSM/EDGE (850, 900, 1800, 1900MHz)
Gigabit-class LTE (Bands 1, 2, 3, 4, 5, 7, 8, 11, 12, 13, 14, 17, 18, 19, 20, 21, 25, 26, 29, 30, 34, 38, 39, 40, 41, 46, 66, 71)
Data only
Wi-Fi calling

SIM Card: e-SIM (not available in China)

Add-ons
Stereo speaker audio, dual microphones for calls, video recording and audio recording, Siri voice assistant, USB-C, Smart connector, Three-axis gyro, Accelerometer, Ambient light sensor, Barometer, FaceTime video and FaceTime audio to any supported devices via Wi-Fi or cellular, Three-axis gyro, Accelerometer, Barometer, Ambient light sensor
Stereo speaker audio, dual microphones for calls, video recording and audio recording, Siri voice assistant, USB-C, Smart connector, Three-axis gyro, Accelerometer, Ambient light sensor, Barometer, FaceTime video and FaceTime audio to any supported devices via Wi-Fi or cellular, Three-axis gyro, Accelerometer, Barometer, Ambient light sensor
Dimensions
250.6 x 174.9 x 6.1 mm
203.3 x 134.8 x 6.1 mm
Weight
Wi-Fi only: 456 gWi-Fi+ Cellular: 464 g
Wi-Fi only: 300 gWi-Fi+ LTE: 308 g
Colour
Silver/Space Gray/Gold
Silver/Space Gray/Gold
Price

Wi-Fi only starts at Rs 44,900
Wi-Fi+ Cellular starts at Rs 55,900

Wi-Fi only starts Rs 34,900
Wi-Fi+ Cellular starts at Rs 45,900