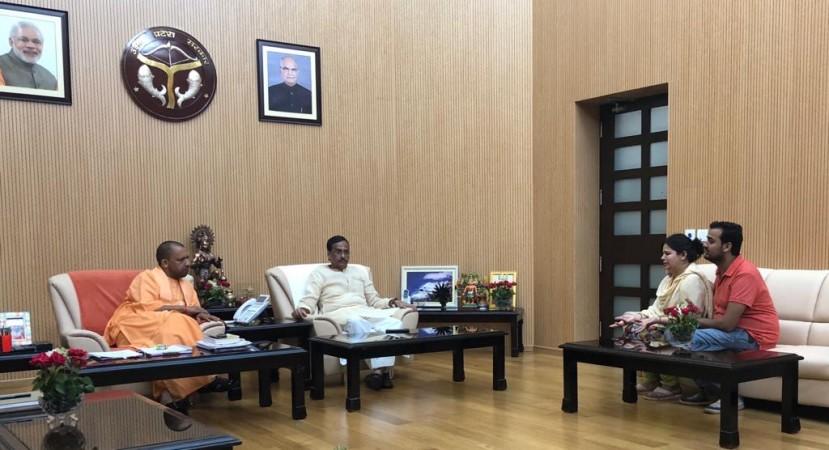 The family of an Apple executive, shot dead by a policeman in Gomti Nagar area, met Chief Minister Yogi Adityanath on Monday and said that they "have faith" in the state government.
"I have said earlier that I have faith in the state government. This faith has been strengthened after meeting the CM. I have lost the capacity to take a stand after the unfortunate incident, which should not have happened. It has shaken me. After meeting the CM, I have gained confidence that I will be able to fulfill the responsibilities my husband left on me," said Kalpana Tiwari, the wife of Vivek Tiwari (38).
The executive was shot dead on September 29 when he allegedly refused to stop his car. "All my demands have been met. I wanted strict action against the guilty, a job, accommodation, expenses for education of my daughters and my mother-in-law. The CM acceded to all my demands," she told reporters.
Earlier, Deputy Chief Minister Dinesh Sharma reached Tiwari's residence on Monday morning and took along Vivek's wife, brother-in-law and two daughters to the 5 Kalidas Marg residence of Adityanath for a meeting.
#WATCH: Kalpana Tiwari, wife of Vivek Tiwari who was shot dead by a police constable in Gomti Nagar area on 29 September, says after meeting CM Yogi Adityanath, "I had earlier also said that I have faith in our state government and today that faith has further strengthened" pic.twitter.com/EkloDLhfIE

— ANI UP (@ANINewsUP) October 1, 2018
The chief minister assured family of all the possible help and also met the two daughters and consoled the family promising strict action against the guilty.
"The family is satisfied with the action taken. We will be giving all possible help to the victim's family including a job to Kalpana as per her educational qualifications," the deputy chief minister said.
Two constables -- Prashant Chowdhury and Sandeep Kumar -- have been arrested on the basis of an FIR lodged by Tiwari's colleague Sana Khan, who was traveling with him at the time of the incident.
The two accused have also been dismissed from the service. His body was cremated at Bhaisakund in the presence of state minister Brijesh Pathak, local MLA Ashutosh Tandon and others on Sunday.