In a brutal incident that took place in Gujarat, a Dalit man and his mother were allegedly beaten up by a group of people from the Darbar community for skinning dead cattle on Saturday night.
Hair chopping rumour claims life: Dalit woman lynched for looking like a witch
The incident which was reported to have occured in Kasor village of Anand district comes as a chilling reminder of Una Dalit flogging where four Dalit men were also thrashed for skinning dead cows.
The 21-year-old man who has been identified as Shailesh Rohit and his 45-year-old mother, Maniben were thrashed for nearly 20 minutes with sticks and also verbally abused.
Following the assault, Rohit lodged a police complaint on Saturday night and also identified five men— Dholabhai Parmar, Vijay Phula Parmar, Narsinhbhai Parmar's son, Jaimin Parmar and Kaushik Parmar.
"On Friday, Darbar community members threatened me to stop the skinning work saying it was raising a stink in their locality. To avoid any rouble, I left for my house. But on Saturday night, we were attacked by the mob at our house in Rohitvaas," Rohit was quoted as saying by the Times of India.
Meanwhile, the police have booked the five perpetrators and 20 other people under Sections 323, 506 (2) of the IPC and under the SC/ST Act. The police are searching for other culprits.
"Since the information regarding the accused was incomplete, we have met the family and collected names of seven more assailants, who have fled the village." Khmabat DSP D D Damor told the TOI.
Rohit's family is being protected by the police.
The Rohitvaas area houses around 25 families who professionally skin dead animals. However, as the area is dominated by the Darbar community who belong to the Kshatriya caste, the dalits are often subjected to assault.
"Dalits in villages of Anand district are facing discrimination and atrocities. There are temples in Khambhat town, villages like Saiyadpura and Sundalpura in Umreth where Dalits are not allowed to enter," said Kiran Solanki, president of Dalit Atyachar Nivaran Samiti in Anand district.
Though another incident of a Dalit man, who was assaulted by the Kshatriya community went unheard a few months ago, Solanki is determined to not seek justice for Rohit and his mother.
"We are going to make a representation regarding this before the DSP of Anand on Wednesday," said Solanki, who doesn't seem to be happy with the way the police are dealing the crime.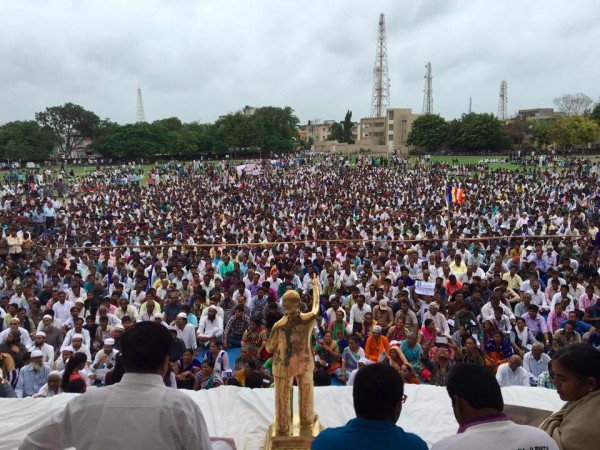 On the Independence Day of 2016, several Dalit protestors were attacked while returning home from a 10-day-long Dalit Asmita Yatra in the same Una area of Gujarat's Gir Somnath district.