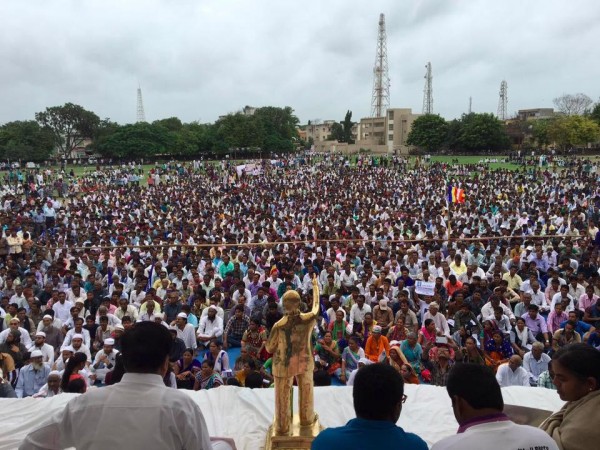 Several Dalit protestors were attacked while returning home from the 10-day-long Dalit Asmita Yatra on Monday at Una in Gujarat's Gir Somnath district. On Independence Day, about 10,000 people had thronged a school ground for the march to oppose the spurt in attacks on Dalits.
At least 19 people, including three policemen, were injured in the clashes. They are now being treated at a local hospital in Una, according to NDTV. Nearly 26 people have been arrested, according to the Hindu.
The trouble began to brew when the rally began to draw to a close at around 5pm. Some Dalits claim that they were attacked as they were returning to their villages on motorcycles. An incident reportedly occurred at Rameshwar Patiya, while clashes also took place in Samter village where a majority of those accused in the Una atrocity case live.
"It was a pre-planned attack, as all the alternate roads were also blocked by them (upper castes). We were attacked in the presence of police. When the situation went out of control, the police fired some tear gas shells on the mob," Babubhai Sarvaiya was quoted saying by the Hindu. Sarvaiya was among four Dalits filmed being thrashed in Una after being accused of killing a cow. He escaped unhurt as he was escorted by eight policemen to his village.
Police have denied the accusations leveled upon them.
"Police fired six rounds in the air at Samter village to disperse the mob," Brajesh Jha, Inspector General (IG) of Junagadh Range said after the clashes.
"In both places, police lobbed more than ten tear gas shells to disperse the mob. The situation is under control and the roads blocked due to the violence have been opened by the police," he added.
The event on Monday had seen the participation from numerous organisations which marched in solidarity with Una Dalit Atyachar Ladayee Samiti, including the All-India Agricultural Workers' Union (AIAWU), All India Democratic Women's Association (AIDWA), Student Federation of India (SFI) and Dalit Shoshan Mukti Manch (DSMM).
Jawaharlal Nehru University Students' Union (JNUSU) President Kanhaiya Kumar also addressed the rally and Radhika Vemula, the mother of Dalit scholar Rohith Vemula, who committed suicide in Hyderabad and Balu Sarvaiya, father of one of the victims of Una Dalit flogging incident, together hoisted the tricolor and called for "azaadi" from all kinds of oppression.
Jignesh Mevani, a young Dalit leader read out a pledge to urge other Dalits to give up occupations such as cleaning of cow carcasses and manual scavenging, and demanded alternative employment.
He also linked the land question with the struggle for liberation from caste oppression, and demanded the government to provide five acres of land for each Dalit family as an alternative source of livelihood. Indicating that their struggle will intensify if the demands are not met, the All India Kisan Sabha also extended support to the call for rail roko.