An angry Sonu Sood has reportedly walked out of Manikarnika: The Queen of Jhansi after Kangana Ranaut took over the director's seat.
"Yes, Sonu has left the film. He is no longer a part of Manikarnika. And he has informed the film's producers of his decision. He took a lot of crap from a person who feels she knows how to direct a film without any real qualification to do so. But finally, when Kangana Ranaut officially took over the direction, Sonu could take it no more. He quit the film," a source was quoted as saying by Bollywood Hungama.
A few days ago, an image of the clapboard showing Kangana Ranaut as Manikarnika's director had gone viral on social media. It was revealed that Kangana was indeed directing some of the portions of the period drama as the film's director Krish Jagarlamudi had shifted his focus to direct the NTR biopic.
Apparently, Kangana even tried telling Sonu what he should be doing on the sets. It is also being said that soon after Kangana took over the director's seat, she wanted to chop down Sonu's role in the film.
"When Kangana gradually took over the project she also wanted Sonu Sood's role to be cut down to size. This was last straw. The normally mild-mannered Sonu just erupted," the source added.
Sonu, apparently, was heard saying loudly in presence of Kangana, "Why should I take direction from an actor in this film? I signed the film with Krish as director. If he isn't a part of the film, I don't want to be part of it either."
Kangana, too, has confirmed Sonu's exit from Manikarnika and said that the actor vehemently denied to work under a woman director. She also denied having an apparent showdown with him.
When I never met him, never directed him, when did I have this showdown? Sonu and I haven't even met since the last shot with Krish (director) last year. He is busy filming Simmba. He couldn't even give us tentative dates to match combinations with other actors. The producers showed him the film and writers narrated the patchwork to him. He refused to meet me. He vehemently denied to work under a woman director, which is kind of amusing because Sonu is a dear friend and I have even launched the music of a film that he produced at his request. Even though the team suggested that they have full faith in me, it seems, Sonu had neither dates nor faith," Kangana said in a statement.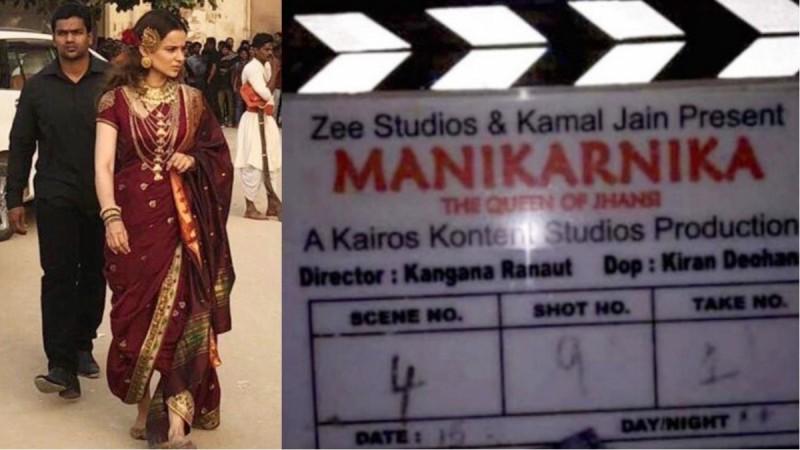 She added, "And when I last spoke to him, he suggested that I can go ahead with someone else and when I narrated the script to Zeeshan Ayyub, he called the studio and gave the dates. By that time, it was too late as Zeeshan gave me dates for September. Now I hear I had a showdown with him. When I never met him, never directed him, when did I have this showdown?"
However, Sonu's spokesperson said in a statement that the actor had informed the makers of Manikarnika about his dates well in advance.
"Sonu has always been a thorough professional and honoured all his commitments. He had informed the makers of Manikarnika about his dates and schedule well in advance. Inconveniencing the team of his current film, to accommodate the demands of another are against his professional principles. Sonu has taken the higher road ahead and wishes the team of Manikarnika all the best," read the statement.
The portions which Sonu had shot for the film will now be discarded and reshot after getting another actor on board.
"Yes, none of the portions he has shot before will be used because he has spiked hair with gel. So, the new team of DOP, editors and our writers of Manikarnika have discarded those scenes. I have to shoot all of that anyway. So, it's easy to get another actor on board. Who keeps spiked hair for a period film?" Kangana said.
Kangana also said that Sonu wanted to retain a few of his Kushti scenes because he had built his body for it which was never a part of the script.
He himself wrote his scenes of Kushtiblike Dangal which were never in the script. He and director shot a lot of stuff which was never in the script and writers discarded those. Is it my fault? Am I writing the film? He wanted the producers to retain the kushti portions as he made the body for it for 4 months. How did I know that is happening behind my back. When writers saw the film, they said they don't want it," she said.
This is not the first time that Kangana has landed herself in a controversy with her film's unit. Last year, she was embroiled in a controversy with National Award-winning writer Apurva Asrani over Hansal Mehta's directorial Simran's writer's credits.
In a long Facebook post, Asrani had expressed his displeasure for not just his credit as a writer being pushed after an additional writer, but also exposed Kangana and her dictatorship on the film set.
And Sonu's shocking departure from Manikarnika only shows that Kangana hasn't learned her lessons yet.