Train services on the western lines have been affected in Mumbai after heavy rains brought down a part of the Gokhale bridge at the Andheri station. The bridge is known to connect Andheri East and Andheri West stations and is used by thousands of commuters on a daily basis.
Traffic at the bridge has been halted and firemen have been working in the incessant rain to clear the debris and check if anyone is stuck in the mishap.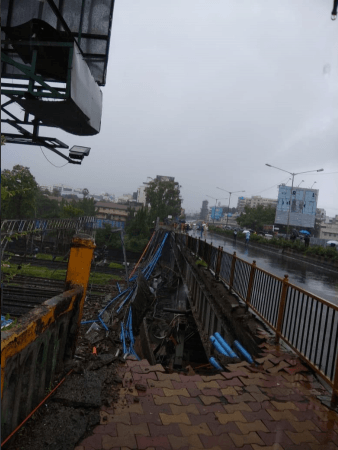 Train service to resume after 3 pm
Heavy rains have been lashing Mumbai since this morning and train services have remained suspended after the Gokhale bridge collapsed in Andheri.
It is now being said that the services would resume after 3 pm.
Railway minister orders probe
"Part of Road Over Bridge has fallen on tracks near Andheri Station impacting rail traffic. Directed officials to speed up repair work and rapidly restore traffic in close coordination with other departments. I have also ordered an enquiry by Commissioner of Rail Safety," Piyush Goyal tweeted.
Railway tracks submerged in water
Western Railways helpline
Andheri - 022676 30054
Churchgate - 02267622540
Borivali- 02267634053
Mumbai Central- 02267644257
More rain expected
The financial capital has been brought to its knees after heavy rains and several local trains are said to be running at least 15 minutes behind schedule. The city's famous dabbawalas have also spoken about their inability to carry out their business.
Meanwhile, looks like Mumbai has more woes to deal with as private forecaster Skymet has forecast incessant downpour in the region.
Water-logging in several areas
Commuters are said to be facing issues and water logging has been reported at Shyam Talav, Hindmata, Oberoi Mall, WEH, CST Road, Kurla, Mahim Junction, Nehru Nagar Bridge, reported India.com
Flight services affected
The heavy downpour has also impacted flight services in Mumbai and airlines have issued travel advisories to their flyers.
#TravelUpdate Due to heavy rains at Mumbai, traffic congestion on Mumbai airport road is expected due water logging. Customers travelling from Mumbai are advised to allow more time for their journey to the Airport.

— Vistara (@airvistara) July 3, 2018
6 people injured in bridge collapse
Six people have reportedly been injured in the Gokhale bridge collapse near the Andheri railway station. Between 25 lakh and 30 lakh people are known to use the bridge each day.
"Don't think anyone is trapped under debris. Railway admn, RPF, GRP, City Police are present & clearance of debris underway. Railway will probably start functioning in next 4 hrs," R Kudvalkar, a Railway Protection Force personnel, told ANI.
Massive water logging reported
Several roads and streets are said to be water-logged and residents have been tweeting pictures showing inundated roads
Surge in taxi fares
Several commuters have also said that there is a surge in fares of Ola and Uber taxis due to the downpour and the traffic.
Heavy downpour brings city to its knees
Mumbai has been receiving heavy rainfall since early Tuesday morning after the city also received showers on Monday, July 2 night. Roads are water-logged and traffic extremely slow moving due to which office goers are said to be facing issues.
Rescue efforts on
An NDRF team is on the spot and is said to be clearing the area. It is believed that people could be trapped under the debris.