After making a landfall in Oman over the weekend, tropical storm Mekunu hit coastal Karnataka on Tuesday, May 29, bringing heavy rainfall, which inundated Mangaluru and Udupi. The weather office has said that the region may receive more rainfall on Wednesday, May 30, and has asked residents to stay alert.
Earlier, the Indian Meteorological Department had raised an alert for Maharashtra and Goa and also issued a warning to fishermen asking them not to venture out to the sea. However, the coastal areas of Karnataka, specially Mangaluru and Udupi, were worst hit by the severe weather conditions after receiving incessant rains since Sunday, May 27.
On Tuesday, the downpour resulted in water-logged streets and brought down several trees and power lines. Several people and vehicles were stranded in flooded areas and Dakshina Kannada deputy commissioner Saisikanth Senthil said that about 12 people had sustained injuries, according to media reports.
About 130 buildings have been damaged by the rainfall and strong winds and losses have been pegged at Rs 51.37 lakh. Schools and colleges have been shut down and people have also been advised to stay indoors. On Tuesday, boats had to be used to ferry those stranded.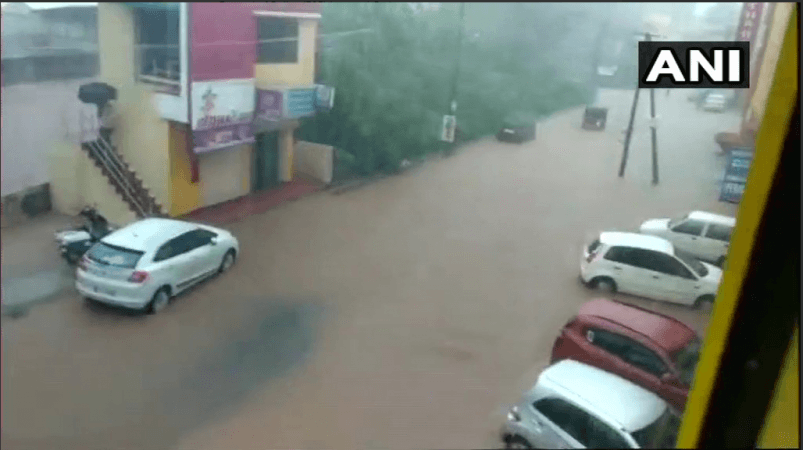 The home ministry has reviewed the situation and rushed several rescue teams to the spot. The National Disaster Response Force is also carrying out search and rescue operations and the Coast Guard has also been kept on standby, in case the situation worsens.
However, a few authorities have said that the intensity of the downpour has reduced in the last few hours.
While Chief Minister HD Kumaraswamy took stock of the situation at Dakshina Kannada, BJP MP Nalin Kumar Kateel also visited the water-logged area to assess the situation.
A few flights of Air India, SpiceJet and Air India Express were also diverted due to bad weather and low visibility.
Prime Minister Narendra Modi also ensured assistance to those affected and tweeted: "I pray for the safety and wellbeing of all those affected by heavy rains in various parts of Karnataka. Have spoken to officials and asked them to ensure all possible assistance in the affected areas."
Former chief minister and BJP leader BS Yeddyurappa also said that the Centre would do everything it can to help the people in the region. "My thoughts are with all those affected by the incessant rain in #Mangaluru region. I pray for your safety and well being. Centre has assured all possible support in mitigating the situation due to heavy rains. I request the fishermen to not venture out in the sea," he wrote on Twitter.
Mekunu in Yemen and Oman
The tropical storm made a landfall in Salalah, Oman's third-largest city, on Saturday, May 26 and is said to have been the most powerful storm to hit the region.
Salalah witnessed 11 inches of rain, which turned dry creek beds into raging rivers that caused flash floods. About 13 people, including three Indians, were reportedly killed.