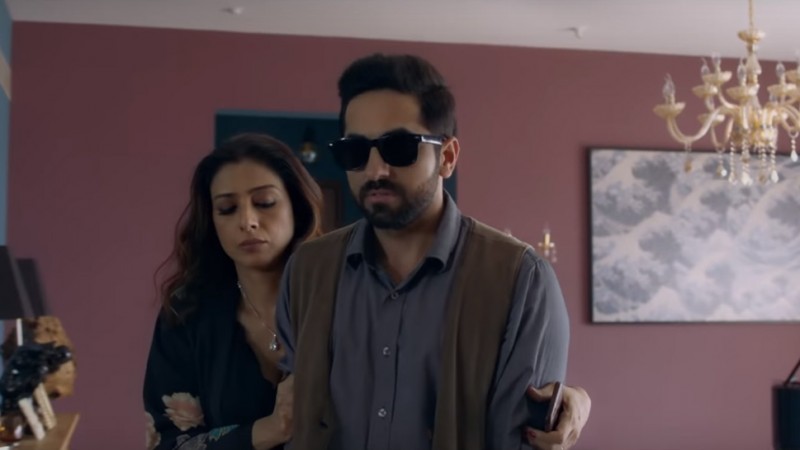 Director Sriram Raghavan's thriller AndhaDhun starring Ayushamnn Khurrana, Radhika Apte and Tabu, which is all set to hit the screens this Friday, has already received a thumbs up from the critics.
The thriller unfolds the story of a blind piano artist and showcases facades of his love story. However, life takes a sharp turn as he gets caught in the world of tragedies. Produced by Viacom 18 Motion Pictures and Matchbox pictures, AndhaDhun is directed by Sriram Raghavan and it has managed to strike the right chord with the critics.
Lead actors Ayushmann, Radhika and Tabu including the supporting cast of Chhaya Kadam, Zakir Hussain, Manav Vij and Ashwini Kalsekar have been receiving immense praise for being effortlessly pitch-perfect.
The movie has also managed to keep the critics glued to their seats with its striking screenplay authored by Pooja Ladha Surti along with Raghavan, Arijit Biswas and Yogesh Chandekar.
While AndhaDhun will open to theatres on October 5, take a look what critics have to say about the gripping thriller.
The Times Of India: "Ayushmann Khurrana in the lead role is a revelation. While he lends that effortless ease to every role he portrays, AndaDhun is the most definitive role of his career so far, that proves his versatility. Tabu is outstanding as always in a conflicted role that expects her to be erratic, vulnerable and deceitful. Sairat (Marathi blockbuster) actress Chaya Kadam and Ashwini Kalsekar leave an impact. Yesteryear actor Anil Dhawan makes a memorable appearance and Amit Trivedi's music gives an haunting edge to the film. The interesting background score adds as a perfect layer to the ongoing proceedings.
Open to various interpretations and unpredictable from beginning to end, AndhaDhun is an engaging thriller that keeps you on your toes and leaves you guessing all the way."
Ratings: 3.5 stars
Film Companion: "Andhadhun is inspired by a French short film called The Piano Tuner. Inspiration might also have come from 'Raabta' in Sriram's Agent Vinod – you remember that terrific song in which a blind pianist continues to play as Saif and Kareena spray bullets everywhere. Four writers worked on Andhadhun and the second half does feel like a bit of a khichdi. The narrative becomes more convoluted than inventive. And the humour isn't as sharp – though Zakir Hussain as a casually corrupt doctor irritated by the demands of his family deserves, I think, at least a short film of his own."
Ratings: 3.5 stars
NDTV: "Lead actor Ayushmann Khurana has never been better: he hits it right out of the park - and then some. As good as she has ever been, Tabu, too, is astounding as a woman who exudes as much charm as deadly intent. Radhika Apte, playing markedly less tortured than she has been in most of her recent screen outings, is effortlessly pitch-perfect. Supporting cast members Chhaya Kadam, Zakir Hussain, Manav Vij and Ashwini Kalsekar also add their mite to the film.
Watch Andhadhun with your ears, eyes and minds open. You will come away with your senses heightened."
Ratings: 4 stars
Huffington Post: "From Stree to Manmarziyaan to Manto, the past few weeks have turned out to be spectacular for Hindi cinema. AndhaDhun continues this winning streak.
Raghavan, however, saves the best shot for the end. You might just need Cobb's totem to figure that one out. Keep your eyes wide open."
Ratings: Not known
Bollywood Hungama: "On the whole, ANDHADHUN is a thriller par excellence. Very rarely does Bollywood deliver a thriller that shocks and stuns you so well. Although the second half does drop, the impact is made and this would surely result in a good word of mouth. Recommended!"
Ratings: 3 stars
Stay tuned for more AndhaDhun critics' reviews at IBTimes India.