Sriram Raghavan's latest directorial, Andhadhun has been receiving immense praise from the audience. Starring Ayushmann Khurrana, Tabu, Radhika Apte, Anil Dhawan among others, Andhadhun has impressed the majority of the viewers.
A lot of people including celebs have already watched the film, and are going gaga over it. They have been sharing their views on social media, explaining what they liked in Andhadhun.
Not just the actors, the Badlapur fame director is also receiving a lot of accolades for the thriller. From performances to background score, from direction to storyline, everything about Andhadhun is being applauded by the audience.
STORYLINE
Andhadhun is a story that revolves around a blind piano player, portrayed by Ayushmann. The trailer of the film showed him having a romantic relationship with Radhika Apte's character. Tabu plays a wife's character and Anil Dhawan is her husband.
The otherwise funny movie turns into a thriller after a murder takes place. Whether Ayushmann's character is actually blind or not, that also adds mystery to the plot.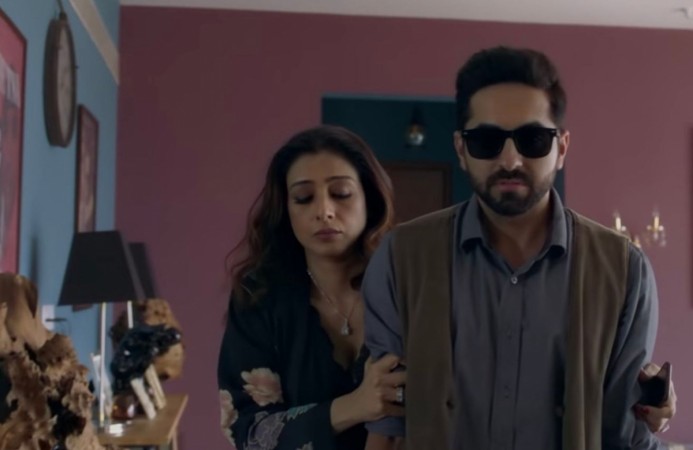 AUDIENCE REVIEW
After Badlapur, Sriram Raghavan has impressed the audience with this quirky thriller. Ayushmann and Tabu's performances are getting special mention from most of the viewers. However, it is the director who is receiving most of the credit.
Andhadhun has a pleasant dose of humour, entertainment and thrill. Also, the unpredictable twists and turns in the plot has made the movie even more engaging. It is being called a master class in film-making. With such positive response, the audience rating of Andhadhun stands at 4/5.
Check Andhadhun live audience review below:
Prachi Tehlan: A sheer treat to watch such an intense @AndhadhunFilm. Kudos to #Tabu Mam, @ayushmannk and @radhika_apte for such effortless performances. And great screenplay and fairly guided direction by #SriramRaghavan #Andhadhun #AMustWatch
Jahan: #AndhaDhun is terrific, and yes - it is the best Hindi film I've seen this year at the cinemas. Go watch. And go in blind.
Smita Vyas Kumar: #Andhadhun is an absolutely wicked delight that will make you forget to pop your popcorn!
Neetesh Gupta: #Andhadhun is a taut,skillful and surgically effective murder mystery.@ayushmannk hits the bulls-eye.@radhika_apte delivers his role efficiently with a very obligatory performance.#Tabu owns every scene that she's in this film. it's darkly humorous Thriller
Ritesh Shah: #Andhadhun is mind blowing. @ayushmannk delivers his best performance till date IMHO and the background score is worth stealing from somewhere since they don't release them as albums anymore. Can anyone help me lay my hands on the background score please?
ShyFyy: #AndhaDhun is quite fun fun fun! Like reading a proper twisty pulp thriller. DhanTaNannnnnn!!!!
Kunal Mandekar: So @AndhadhunFilm has been seen. It will keep you on the edge of your seats. A fantastic suspense movie. @ayushmannk and @radhika_apte are spectacular. And #tabu is a legend. Well done #SriramRaghavan @Viacom18Movies @AndhareAjit . You have to see it to believe it. #AndhaDhun 4*
Umesh Punwani: #AndhaDhun interval: This is ONE OF THE BEST thrillers ever & not just of Bollywood! @ayushmannk's BEST performance without a doubt. #SriramRaghavan has managed to pull off a masterpiece.
Lally Zeez: Just watched #Andhadhun. Potentially film of the year tbh. Amazing story, sensational acting and a proper thriller. Unique stories and screenplay always gets my approval.
Ashish Saksena: #Andhadhun is near-perfect crime thriller. Twists & turns aplenty. @tabuism & @ayushmannk keep one guessing till the very end. #AnilDhawan & his songs superbly integrated into the plot. #SriramRaghavan ought to direct more films. Don't leave before the end credits end. Go watch.
Alaka Sahani: A tip for fellow film nerds, don't go late for #AndhaDhun, watch it till the very end and sit through the end credit roll.
Bharati K Dubey: Adhbhut #Andhadhun @ayushmannk is super brilliant and #Tabu as usual is top notch. Book your tickets if ur lover of good cinema.
Patakha Guddu: Hawaai firing for Pooja Ladha Surti, Sriram sir's partner-in-crime, co-writer and editor of #AndhaDhun. By far the best film of 2018, and I would proudly give away all the awards to this team.
Rajat Arora: Sriram is back to do what he does best... make you pay for the whole seat but keep you on the edge of it throughout ... #Andhadhun Go to this one with blind faith!
Vikramaditya Motwane: ANDHADHUN IS INCREDIBLE!!! I wish there was a way of saying this louder and bolder. Sriram Raghavan is a genius. The cast is terrific. Please push everyone you know (and their friends and relatives and neighbours) into the cinemas this weekend. Please make this film work!!!
Nupur Asthana: Just can't get over #Andhadhun . It's a master class in Film making. #SriramRaghavan
Hansal Mehta: #AndhaDhun is a cracker of a film by a maestro. This is vintage #SriramRaghavan with quirky characters, unexpected humour and many twists in the tale. @tabuism is superlative. @ayushmannk this is your best work to date. #AnilDhawan is genius casting. @radhika_apte is so apt
Biswapati Sarkar: ANDHADHUN is not a 'great thriller'. It is a great FILM. Perhaps, the film of the year. It releases tomorrow, and you HAVE to see it to believe that all the hype is true. Apart from being a master filmmaker, Sriram Raghavan is also a subgenre now.