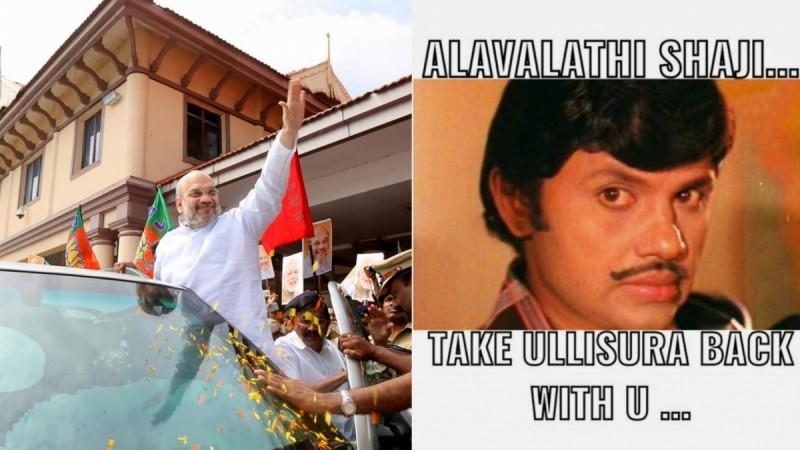 Bharatiya Janata Party (BJP) national president Amit Shah arrived in Kochi on Friday, June 2 on a three-day visit in Kerala. However, netizens are celebrating his visit, and have welcomed the BJP leader with the hashtag #AlavalathiShaji (also spelt #AlavalathyShaji), thanks to the famous dialogue "Ne alleda alavathi Shaji?" (Aren't you the uncouth Shaji?") of late Malayalam actor Jayan.
Twitter mocks Narendra Modi with #PoMoneModi
Remember Twitter mocking Indian Prime Minister Narendra Modi with the hashtag #PoMoneModi for comparing Kerala to Somalia? #AlavalathiShaji is now their response to Shah.
Many memes have also surfaced online with Keralites expressing their anger against the Centre's regulation on the slaughter of cattles. "Aren't you Alavalathi Shaji who will not allow Malayalis to eat beef?," ask netizens in the memes. Interestingly, #AlavalathiShaji is one of the trending topics on social media on Friday. After all, beef is not just a food for Keralites, its an emotion.
Also read: Kerala beefs up sentiment against cattle slaughter ban
"@AmitShah ji while u r here n Kerala for 3 days please don't dissrupt our communal harmony and do try parotta and beef too #AlavalathiShaji [sic]," tweeted Lejosh. "#AlavalathiShaji, modiji: "what's up in Kerala? Amitsha:-oh they give me warm welcome and they given me a lovely name "alavalathishaji"PLINg [sic]," tweeted Sarath.
Many have also asked Amit Shah to try out beef fry atleast once since he is a place where it is a signature dish. "#AlavalathiShaji a reminder.... while in kerala try their signature dish No not Palak Panner .....beef [sic]," commented another netizen. Social media users have also asked Shah to take back K Surendran, BJP's general secretary in Kerala, to New Delhi, so that he "won't open his mouth to say blunders."
However, Amit Shah's latest tweet reveals that people in Kerala have given him a "very warm welcome." May be none of his followers explained him the real meaning of these welcome message!! [pun intended]
"The energy and enthusiasm for BJP among people of Kerala is a sign of trust in BJP and yearning for change from the LDF, UDF governments," Amit Shah tweeted.
Meanwhile, during his three-day visit, he is expected to meet bishops to build a relationship with the Christian community despite the Centre's notification on banning cattle for slaughter.
Here are some memes and funny comments on Amit Shah that are doing the rounds on social media:
MOHITH.P.M‏
Easy to lift the Beef Ban Lets Welcome Amit Shah ji to Kerala with our Beef Fry.Once u hav it Amit ji,YUMMY... #Alavalathishaji #Beefban
Anwarsadik‏
#AlavalathiShaji welcome to the land of beef fry and start your mission illiterate for our remaining 5%
Velunaiker V
So you are the #AlavalathiShaji who goes with camera to eat with the poor? Welcome to Kerala
-