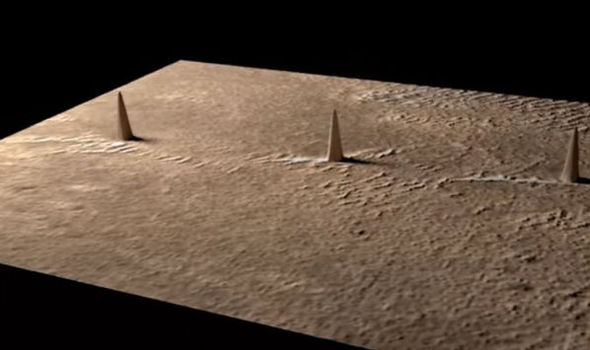 Conspiracy theorists have come up with new evidence to prove that aliens exist on Mars. The evidence shows three finely built towers standing in a row on the Martian surface. These stunning structures were first seen on YouTube channel Mundo Desconocido.
The video shows three symmetrically aligned structures, which are almost equidistant. They seem to be constructed with perfection. The conspiracy theorists are agreeing to the belief that these well built trio on Martian surface point towards the existence of alien life on Mars. The exact height of these structures seems to be unclear.
Here's a link to the video revealing the three giant towers on Mars:
According to Express, the towers are one mile-high, while a report by Inquisitr claims that they are six mile-high. Inquisitr even stated that though these images were captured years back, they were identical.
A report by Headlines and Global News stated that the source of the images used in the video is NASA's Mars Global Surveyor and Mars Odyssey missions.
"There is a whole planet full of buildings and artefacts to be discovered on Mars. Here is a fantastic example of that posted by YouTube user Mundo Desconocido," popular UFO hunter and blogger Scott C Waring stated on his site UFO Sightings Daily.
Scott found three towers that look to be almost a mile in height or more. "They would be perfect for setting up a human Mars base at...if they are empty of course," he added.
The description of YouTube channel Mundo Desconocido stated that these towers have an artificial origin because of the structure and features. These towers are located in the Terra Meridiani region of Mars.
Terra Meridiana comprises of complex terrains which consists of volcanic, sedimentary and impact surfaces which point towards Martian history.
Check out the video of 3D models of the structures here (in Spanish):
Related