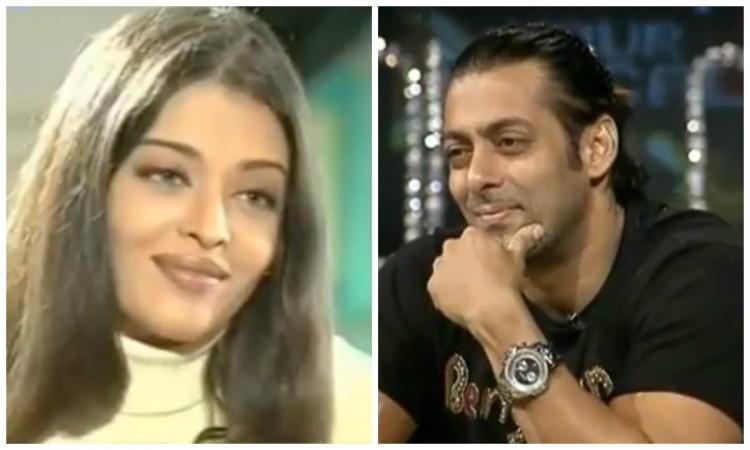 In the wake of #MeToo movement in India, many women have been stepping forward to name and shame their offenders. While many victims have identified themselves while sharing their account on social media, some have anonymously accused a few big names of the entertainment industry of sexual harassment.
However, a fake #MeToo story of Aishwarya Rai Bachchan has been making rounds of social media for the past couple of days.
"Yes I was abused, beaten and many times threatened in my previous toxic relationship. Bollywood's biggest charity man who calls himself 'human' is not so human after all," read the tweet which was tweeted from Aishwarya Rai's unofficial Twitter handle with ID @AishwaryaRai going by the screenshot.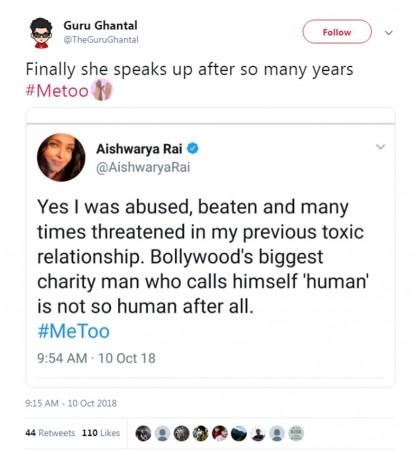 The tweet hints at Aishwarya's alleged abusive relationship with Salman Khan.
In 2002, Aishwarya had spoken about her bitter break-up with Salman and how she was at the receiving end of his abuse (verbal, physical and emotional), infidelity and indignity. However, Salman had said that he had never beaten her adding that he has not been physical with anybody other than Subhash Ghai whom he had apologised later.
The said screenshot had started doing the rounds soon after Aishwarya spoke about #MeToo movement in India.
"I have spoken and will continue to when it comes to speaking for women...ever since I have got the microphone in my hand, right from the platform of Miss World (pageant). Since the world is becoming a smaller space where social media is bringing people closer and anyone from any part of the world can share their story and find interested people to listen to them," Aishwarya told media on Tuesday (October 9).
When we visited the above mentioned Twitter handle (with a blue tick as seen in the screenshot), we found that the last tweet that was sent from the said account was on May 13, 2018 which had Aishwarya's Instagram account link. The said Twitter handle doesn't even have the blue tick (contrary to what the screenshot shows) which marks that the account has been verified by the social media platform.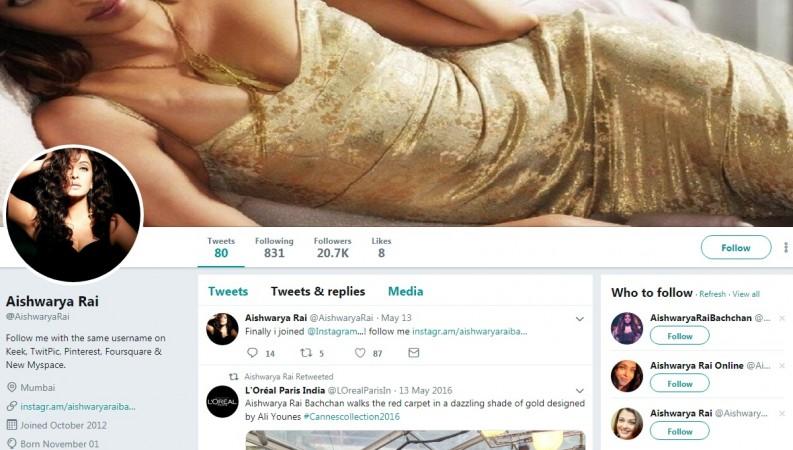 For the uninitiated, Aishwarya joined Instagram on May 11 this year, the time when she attended the 71st Cannes Film Festival with her daughter Aaradhya Bachchan. And as per reports, the actress is not on Twitter.
Going by the tweet, it looks like the sole intention of the tweet was to malign Salman Khan's image by using the #MeToo platform which has encouraged women to speak about their sexual harassment encounters. However, the culprit behind the malicious tweet is yet to be identified.