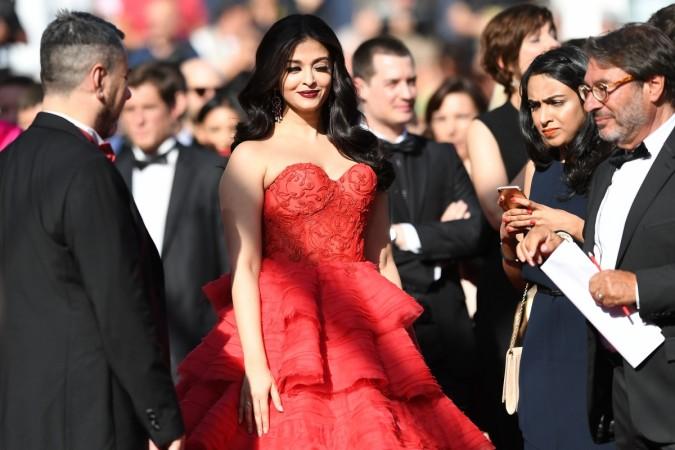 Aiswarya Rai Bachchan joined Instagram on May 11. The Bollywood actress, who is attending the 71st Cannes Film Festival with her daughter Aaradhya Bachchan, began started her social media journey by sharing a silhouette photo where she's seen holding on to Aaradhya.
Instead of opting to sharing the picture as a single post, Aishwarya opted to experiment with the grid format. Her attempt to stand out failed miserably. And if that was not enough, she went on to share her second post where she shared a picture of her dress instead of her face.
Following the picture, fans flooded the picture questioning if it was her official account, why wasn't she sharing a picture of herself and more. Several even requested the actress to learn how to use the app before sharing photos.
"This is annoying!!! Y don't you upload d proper pic. ...this is bad your fans are waiting still Der is no particular pic," a fan commented. "Is Aishwarya account being handled by her grandparents!? My great great granny will do a better job with the posts..." another comment read. "U r aishwarya na? What's this, u r uploading nonsense.."
"Is this truly the official account of Aishwarya Rai Bachchan?" enquired another. "What all are you posting? I doubt the authenticity of this account now," added another. "Atlest makes some video on insta so people will know this is your account anyway welcome to insta," a fan said. "An honest suggestion to team aishwarya plz plz put on the blue tick so as ppl dont get confused cz theres another anoe wid the blue tick which makes that the official account..." a concern fan shared.
There are several fan-made pages that have been sharing updates from the Miss World winner's life. Since these pages have more followers than Aishwarya's official account, fans are look at searching Aishwarya's account a hard task mainly because it hasn't been verified.
Having started on the wrong foot has left Aishwarya furious. While her fellow actors like Katrina Kaif and Aamir Khan garnered millions of followers in the matter of a few hours, her profile had not even crossed a lakh by the noon of May 12.