Adding a new chapter to the history of Indian aviation, Air India embarked on its maiden flight to Tel Aviv in Israel via the Saudi airspace Thursday, March 22.
Air India's flight 139 took off from the Indira Gandhi International Airport in Delhi at 6 pm and landed in Tel Aviv's Ben Gurion Airport after about seven and half hours.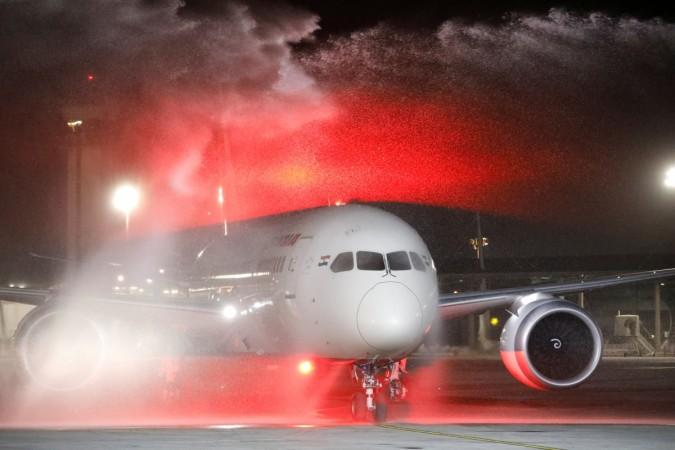 "This is a really historic day that follows two years of very, very intensive work," Israeli Tourism Minister Yariv Levin said in a radio interview, Reuters reported. He also added that using the Saudi airspace cuts travel time to India by about two hours, which in turn also reduces the airfares.
This permission to fly over the Saudi airspace acts as a major boost to diplomatic ties between India and Israel and will also help tourism in both the countries.
Quick facts on India-Israel flights and why Saudi airspace is closed to certain nations
Air India will now be able to take a much shorter route to Tel Aviv via Ahmedabad, Muscat, and Saudi Arabia. The flight will operate every Tuesday, Thursday, and Sunday.
Until now, only one carrier El Al operated flights between Israel and India – Tel Aviv to Mumbai – which is a seven-hour trip. El Al is the flag carrier of Israel.
The Air India Boeing 787-8 Dreamliner entered Saudi airspace and flew over the kingdom at 40,000 feet for about three hours. It flew about 60 km (37 miles) away from the capital city of Riyadh, according to the Flightradar.
It then entered Jordan and the occupied West Bank before landing in Tel Aviv.
Riyadh, however, is yet to officially confirm that it had granted permission to Air India to fly in its airspace, reported the Press Trust of India.
It was earlier reported that Saudi Arabia's General Authority of Civil Aviation had denied Air India the permission to fly in its airspace.
The national carrier too had refused to comment on the issue and only said that it had sought a permit for the same.
This agreement will also boost Israel's attempts to upgrade its relationship with Saudi Arabia.
The Saudi airspace has been closed to Israeli aircraft as well as other nations' aircraft with a flight-path to Israel for about 70 years, reported Haaretz.
Israel and Saudi Arabia do not really have any official diplomatic relations and the latter also doesn't recognize Israel.
Saudi Arabia also doesn't accept Israeli passport and those holding passports with Israeli visa or stamp are also denied entry into the country.
Flights to Israel will still not be able to fly over Iran, Iraq, and Pakistan, as Israel does not share diplomatic relations with these nations.