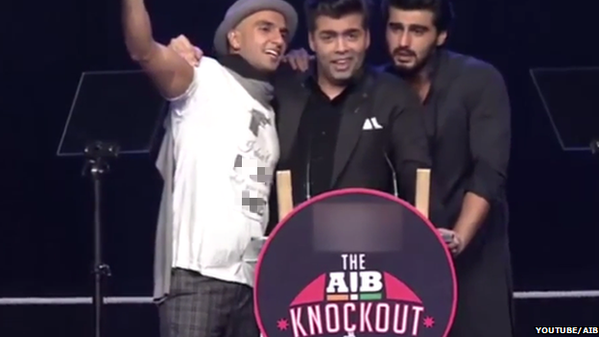 Mumbai police registered an FIR against 14 celebrities, who were involved in the "AIB Knockout" show, after a social activist filed a petition before additional chief metropolitan magistrate.
Social activist Santosh Daundkar filed the petition against 14 celebrities including Deepika Padukone and Alia Bhatt. However, the list doesn't include Sonakshi Sinha, who also attended the show in December.
This has irked filmmaker Mahesh Bhatt, who asked why an FIR was not registered against Sonakshi.
"If being part of 4000 people in the audience and laughing is a crime, then why have the other attendees not been named in the FIR. Sonakshi Sinha, who is the daughter of person ( Shatrughan Sinha, BJP MP) who is part of the present dispensation was also in the audience, why was she not named in the FIR? Certain forces are orchestrating this series of events. You have to be naive not to see that," Bhatt told CNN-IBN.
However, Sonakshi defended herself on Twitter and said that in a couple of FIR's before, Alia's name wasn't mentioned, whereas she was named in it.
"Dear Mr.@MaheshNBhatt, a couple of pointless FIR's have been filed before this (delhi and kol if im not mistaken, in which my name was (1/4)," she tweeted.
"Mentioned and Alia's wasnt. I don't remember my father questioning them as to how or why so. I do agree with u however, if these FIR's (2/4)"
"Are filed on 2-3 members of the audience, why not the other 3,998. Lets not give these ppl the attention they so desperately seek, (3/4)"
"And as far as my memeory serves me, nobody EVER went to jail for laughing. (4/4)"
Mumbai police filed the FIR on Thursday after the court ordered them to investigate the controversial "AIB Roast" show.
Additional Chief Metropolitan Magistrate C.S. Baviskar ordered police to investigate the matter against officials of the National Sports Club of India (NSCI), AIB Roast and film personalities after Daundkar lodged a criminal complaint, IANS reported.
The accused named in the FIR were NSCI president Jayantilal Shah, secretary-general Ravinder Aggarwal, AIB Roast organisers, film personalities Karan Johar, Arjun Kapoor, Ranvir Singh, Rohan Joshi, Tanmay Bhatt, Gursimran Khamba, Ashish Shakya, Aditi Mittal, Deepika Padukone, Alia Bhatt, film critic Rajeev Masand, and other unidentified people from the NSCI.
The lawyer Abha Singh said that the stadium, where the event took place, could be used only for sports-related activities.
Singh further asked how the show was permitted to be held at the venue without the knowledge of the municipal authorities.