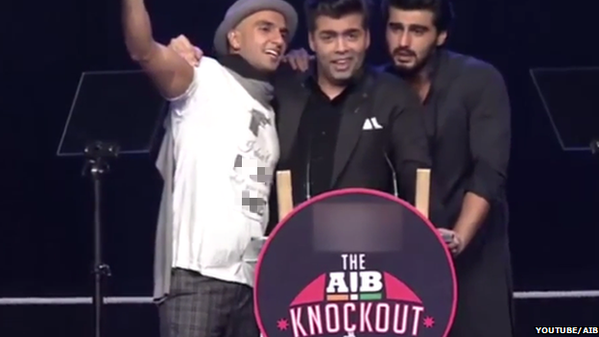 The Pune Police on Thursday, 5 February, registered an FIR against 14 people present at the All India Bakchod (AIB) Roast show.
Karan Johar, Ranveer Singh, Arjun Kapoor, Sonakshi Sinha and Deepika Padukone are among the Bollywood stars named in the FIR.
The FIR filed by a CID inspector, claims that the stars have indulged in obscene behaviour in a public place. Not just that, online video portal YouTube was also named in the FIR for distributing the content of the AIB Roast show.
The FIR has been filed under sections 292 (Distribution of obscene content or lascivious or appeals to the prurient interest), section 67a of IT Act (Publishing or transmitting of material containing sexually explicit act, etc. in electronic form) and section 294 (Obscene Act in public place) of the Indian Penal Code, reported India Today.
The Bollywood stars may reportedly face jail term of five to 10 years and a fine of upto ₹2 Lakh.
Earlier, the Maharashtra government had ordered Mumbai police to investigate the AIB Roast show for obscenity, after some protested against its obscene content and dirty jokes, labeling it a "National shame". The controversy forced the comic group to pull down the video from YouTube and later issue a statement explaining their point of view.
AIB is a comic group comprising members Ashish Shakya, Tanmay Bhat, Rohan Joshi and Gursimran Khamba. The roast panel also included former "MTV Roadies" head Raghu Ram, stand-up comics Aditi Mittal and Abish Mathew and film critic Rajeev Masand.
The controversial AIB Knockout show featuring Karan, Arjun and Ranveer was held in mid-December 2014 at Mumbai amid 4000-odd audience. The edited version of the show was released on YouTube on 28 January. The event amassed over eight million views overnight before the AIB team decided to delete the video.