Twenty-three is too early for a footballer to quit from international football. However, Iranian striker who played in the ongoing FIFA World Cup 2018 in Russia, Sardar Azmoun has decided to call it a day claiming his mother has become seriously ill because of the insults he has received.
Azmoun playing for Russian club Rubin Kazan in the club football had an impressive qualification campaign to Russia netting 11 goals for Iran. However, the 23-year-old failed to replicate the same during the group stage. Despite being on the field for whole 90 minutes against Morocco, Spain and Portugal in the Group B matches, Azmoun failed to score and that seems to have irked some fans.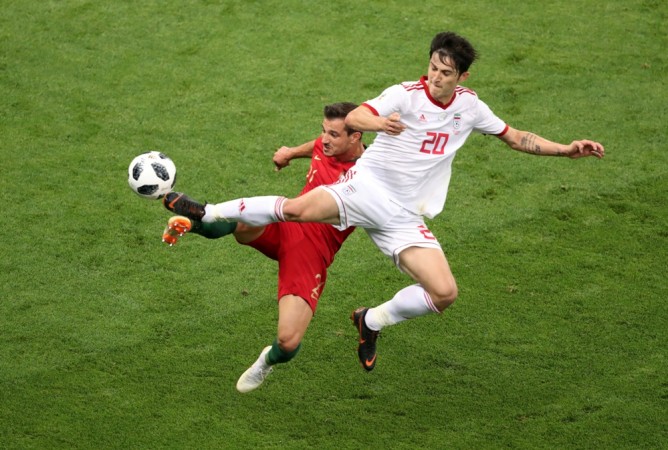 After the defeat against Spain, many people on social media for Azmoun to be benched for the final group game against Portugal. The striker aka 'Iranian Messi,' said that the insults intensified her mother illness and he had decided to retire from the national squad in an Instagram post.
"Unfortunately, with all my interest and against my inner will and desire, I decided to say goodbye to the national team of my country," Azmoun Instagram post reads. "Her (mother) illness intensifies, this brings me to a harsh choice (between football and mother), as a result, I choose my mother. It was the most painful decision of my life."
Sardar Azmoun has already netted 23 goals in 36 international appearances for Iran and the decision is a big blow for the Western Asian country. Several Iranian sportswriters expressed hope that Azmoun will recall his retirement, an emotional decision taken in the heat of the moment.
Reza Ghoochannejhad also quits
Adding salt Iran's wound, striker Reza Ghoochannejhad also announced retirement from national duty. Though Ghoochannejhad was a member of Iran national football team in the FIFA World Cup 2018, he remained an unused substitute in all three group matches.
"To wear Iran jersey was a dream which came true for me but I think it's time to bid farewell to Team Melli. I would also like to thank all my coaches and teammates for helping me grow as a player in the previous six years and wish them all the best," the Heerenveen striker wrote on his Instagram. account.