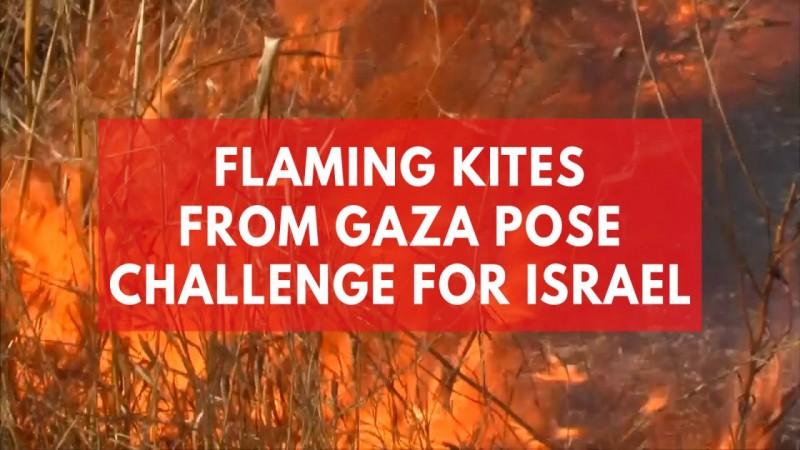 After flying kites loaded with explosives, extremists in Palestine have moved a step ahead, and they have now started flying explosive balloons and condoms towards southern Israeli communities from the Hamas-run Gaza Strip. Extremists are making use of winds coming off the Mediterranean to carry these flying bombs towards Southern Israel, and it has now emerged as a serious threat to the residents in these areas.
Palestinian Fire Condoms of Doomᵀᴹ https://t.co/JoYYZd1F0Q

— PLETZ.com (@pletz) June 19, 2018
As of now, the damage caused by these balloon bombs had only affected fields, forests, and wildlife and as of now, no human casualties have been reported.
Recently, the IDF (Israel Defense Forces) had fired warning shots using drones towards Palestinian extremists who prepare these devices in an attempt to reduce the number of balloon and condom launches.
Even after repeated warnings, a balloon bearing the message 'I Love You' blocked a highway in Southern Israel on June 15, 2018, causing traffic block for more than an hour. Later, the explosive was defused by police sappers safely.
"Explosive kites and burning balloons are not a children's toy. They are a deadly weapon meant to kill our children. We must stop shooting near the target and move to shoot directly at it," said Naftali Bennett, the Education Minister of Israel at the weekly Bayit Yehudi Knesset faction meeting, Times of Israel reports.
In the midst of the growing threat, the Israel Defense Forces, in a statement said that these flying balloons and condoms are actually real terror attacks that endanger the residents of southern Israel.
"A balloon is an innocent and nice thing, but if it is used for fighting it becomes a legitimate military target," Avichai Mandelblit, the Attorney General of Israel.
However, he made it clear that the threat posed by the incendiary objects cannot be compared to rocket fire or other deadly weapons.
Until now, the IDF has not targeted any of the key operatives who are flowing these balloons, as most of them are young children and teenagers. However, if they continue these balloon operations in the future, chances are likely that the IDF may target them directly despite their ages.