After a spate of deaths among adult film entertainers arrives the name of Olivia Nova – the fifth adult star to have died tragically in the past three months. Nova was just 20 and it has been revealed that her death came just months after her boyfriend committed suicide.
It is all the more shocking as not so long ago, she had spoken up about her loss on Twitter, responding to a troll, saying: "My boyfriend killed himself two days before my birthday in April on H, that's not cool to poke at... not over him."
Also read: August Ames suicide
Nova had also posted a photo of them together just days after her boyfriend had killed himself.
"Rest in peace love. It seems like we were cuddling in bed all day with the puppy eating pizza and watching movies yesterday. I'm not ready to say goodbye to you yet," she had captioned the photo on Instagram.
While Nova's cause of death is yet to be revealed, she was reportedly found dead on Sunday, January 7, in her Las Vegas home just a few days within her tweeting about being all alone on Christmas. She had written: "Alone on the holidays and want to give a fan a holiday call. Would lift my spirit."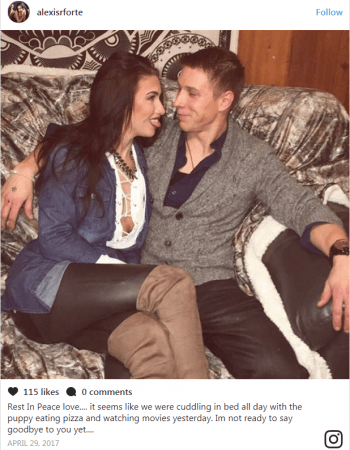 One of her close school friends took to social media to offer condolences in the form of a touching tribute, saying: "Life threw her some curveballs, as she survived a bad snowmobile crash and lost her boyfriend last year, but she always seemed to persevere.
"I'm saddened that yet another young soul has passed on way too soon, short of her 21st birthday. May you fly high Lexi, and make sure not to miss your flight up to heaven (she missed about every flight she had)."
Also read: Jenna Jameson slams muslims
LA Direct Models said in a statement, "While only represented by Direct Models for a short period of time, we came to know Olivia as a beautiful girl with a very sweet and gentle personality. Another one, way too young, we are beyond shocked and most certainly, it was completely out of the blue. Rest in peace, sweet angel."
After adult entertainers like August Ames, Yurizan Beltran and Shyla Stylez, Nova's death comes as a shock indeed. And while it has still not been confirmed a suicide, Mirror.uk reported that her family is seeking help from fans to help fund her funeral expenses.
However, the news of her loneliness over the holidays has really struck the fans and a lot of them are reaching out to help the family offer the service.