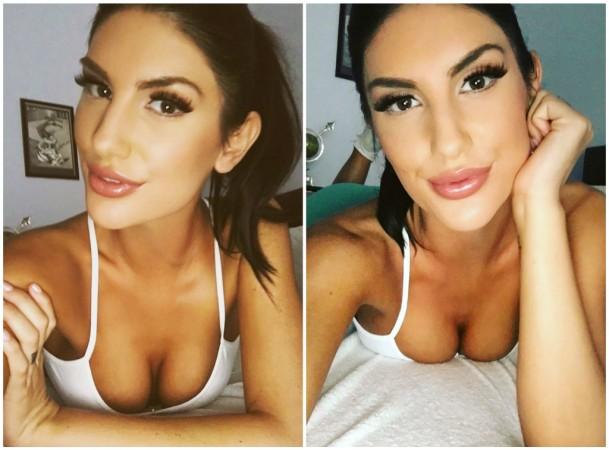 Just weeks before her reported suicide, adult film star August Ames had opened up about her battle with mental illnesses and childhood sexual abuse, something that had clearly gone past the notice of many, until the point she was found hanging in her house at Camarillo.
Also read: Adult film star August Ames found dead days after Twitter backlash
And now, reports revealed that a suicide note was found in her car where she apologized to her friends and family for taking her life, even though there was no mention of cyberbullying or being labelled "homophobic" is the reason behind it all.
As The Blast revealed, the medical examiners claimed August was discovered around 3:45 am, hanging in a public park 20 minutes from her home in Camarillo. The cause of death was asphyxiation due to hanging.
The 23-year-old actress who has over 270 movie credits to her name had suffered harsh bashing on Twitter after she tweeted about her refusal to work with a gay-porn performer. People labelled her homophobic and also asked her to issue a public apology.
whichever (lady) performer is replacing me tomorrow for @EroticaXNews , you're shooting with a guy who has shot gay porn, just to let cha know. BS is all I can say??‍♀️ Do agents really not care about who they're representing? #ladirect I do my homework for my body?✏️?

— August Ames (@AugustAmesxxx) December 3, 2017
While her close ones revealed to media outlets that she was prone to depression, her words from the Holly Randall Unfiltered podcast are now resurfacing to prove that she indeed was suffering from a lot.
I'm listening to my podcast interview w/ her, hearing her voice & her laugh/snort is just so heartbreaking. Also found in my DMs that I had pushed our interview back a week bc my best friend had just died. She was so sweet & caring about my loss... such a big heart that girl had pic.twitter.com/0DT2jWvRGz

— Holly Randall (@hollyrandall) December 7, 2017
Finally home from set and alone w/ my thoughts. I'm not mad, not going jump on the blame train, I'm just so incredibly sad. I know everyone is really emotional right now, which just shows how much @AugustAmesxxx meant to us all. But let's plz not attack each other, love not hate. pic.twitter.com/FPehYEIBiC

— Holly Randall (@hollyrandall) December 7, 2017
August had spoken about the intensity of the trauma that childhood sexual abuse had left on her, saying, "It was just awful. It's still recent where I have to keep myself occupied or else I start thinking about all that s*** and then I fall into a depression."
And what came next was even more shocking. "I try to do therapy. I hate that word. I hate therapy." The strong hatred, in her word, stems from the fact that therapists would judge her for her profession.
"I would get in contact with some people and then I would feel badly because they'd be like 'what's your profession and I'd be like 'oh, I'm in the adult industry' and then I'd feel like they're like 'oh, that's the whole reason that you are the way you are' and then I'd get turned off."
She had also opened up about her history with drug abuse, recounting how at 15, on a babysitting job, the child's father offered her cocaine, in exchange for a little strip show from her.
Continuing, she explained that drugs were just a medium to escape her issues. "I don't drink alcohol anymore," she admitted. "When I would drink, I'd black out every time. I used to smoke a lot of weed too, I used to be a big stoner but I've cut that out too. I just drink water now."
August had also mentioned how the medication was her aid in dealing with bipolar disorder, depression and multiple personality disorder. "It was so hard when I wasn't on any medication when I'd just flip, you know? It was crippling."
And as for the times, she felt low and depressed, she revealed, she would look through her photos for older, happy selfies to post on Instagram for her followers.
While the exact reason for her death remains yet to be revealed, both her brother and multiple other adult entertainment stars have lashed out on social media, blaming bullies for her death.
Especially pansexual adult star Jaxton Wheeler has been accused of driving August to extreme limits as her tweet on "crossover" performers had caused him to retaliate, using the words "swallow a cyanide pill."
The tweet has now been deleted, but multiple people have posted screenshots of the evidence, and directly called him out for being the cause of her suicide. Fellow adult actress Jenna Jameson even claimed: "Her blood is on their [the people who attacked Ames on social media] hands."
I hope SO BAD that this is investigated. Because even his behavior now is just guilty as fuck.

— Shawna Leneé Show (@ShawnaLeneeShow) December 6, 2017
I hope she Haunts your Dreams Forever.

— Mr.Jones (@JessyJonesxxx) December 6, 2017
There has also been an outpour of condolences on various social media platforms ever since August's death was announced, while her husband and adult-film producer Kevin Moore has asked for privacy and revealed, "She was the kindest person I ever knew and she meant the world to me."