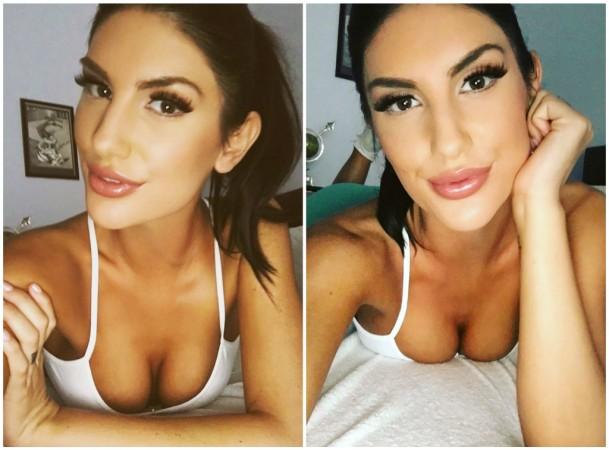 Almost a week after adult film star August Ames was found dead, old interviews and texts are surfacing the internet, that prove how severely she was struggling with her emotional state.
The 23-year-old had contacted her friend and fellow adult-star Keisha Grey, asking her about her well-being, and confiding in her about her own mental suffering in a rather heartbreaking text message.
Also read: August Ames' suicide note found: Did Jaxton Wheeler really lead her to death?
"I hope you're doing well! I've been depressed and it seems like people are being d***s and I just wanted to let you know that you can talk to me if you ever want to," August wrote in the message, as could be seen in the screenshot Keisha had shared.
Even though her suicide note revealed nothing about the Twitter bashing she received just days prior to her reported suicide, her brother, James, still firmly believes it was online bullies – especially fellow adult star Jaxton Wheeler, who was a major cause behind August ending her life.
"I want my sister's death to be recognised as a serious issue – bullying is not OK," James told The Sun. "It cost me my baby sister's life. I will do what I can be a voice for Mercedes but right now my family and I need to be left alone to grieve – we have lost a loved one."
The bullying referred to, happened on Twitter after August posted a controversial statement about refusing to work with a "crossover" actor, that is, performers who work in both gay and straight porn.
whichever (lady) performer is replacing me tomorrow for @EroticaXNews , you're shooting with a guy who has shot gay porn, just to let cha know. BS is all I can say??‍♀️ Do agents really not care about who they're representing? #ladirect I do my homework for my body?✏️?

— August Ames (@AugustAmesxxx) December 3, 2017
This caused her to receive a lot of shaming on the social media platform, including a particularly harsh statement from Jaxton Wheeler, who had suggested she either issue a public apology or "swallow a cyanide pill", in a tweet that has been deleted.
And now, finally, after days of multiple adult entertainers taking to social media to bash Jaxton for his words, he has finally spoken up about his perspective on the incident.
"The idea that I played any role in her decision is erroneous, as is the idea I demanded her death," he told the gay porn blog The Sword. "I acknowledge that I responded with emotions and an unfortunate choice of words. None of my aggression was directed at August nor her ability to consent to who she decides to work with."
Further explaining his own self, he claimed, "My issue was with the misinformation that exists within the adult industry on crossover talent... I go through the same rigorous, regular testing all talent does."