Bollywood's recent blockbuster Padmaavat had some striking performances by stars like Deepika Padukone, Ranveer Singh and Shahid Kapoor, but the "Mehrunissa" character made a powerful contribution to the movie. It was a great platform for Aditi Rao Hydari to showcase her on-screen magic, but the actress is once again turning up the heat for her fans.
Featured in the May 2018 edition of Vogue cover, Aditi is perfectly pulling off a casual summer outfit. She appears to be wearing a pair of ankle-length denim pants and matching denim jacket over a quirky lingerie. She adds some color to her feet with a bright pair of sandals. The stylist chose to let Aditi tresses sit casually on her shoulders.
Combine it all, and it makes for a perfect cover shot. But there's more to it than meets the eye. If you're impressed by the details captured by the photographer, you'll be surprised to know that the shot wasn't taken using a high-end DSLR that photographers normally tend to use.
In what appears to be a first in the industry for both fashion and technology, Vogue's May 2018 magazine cover of Aditi is shot using a smartphone. Curious to know which one? It's the OnePlus 6.
You heard that right. "In a first for the magazine and the industry, the latest cover Vogue India for May 2018 feature Aditi Rao Hydari had been shot using the OnePlus 6," OnePlus said in a statement.
OnePlus is building a lot of hype for its upcoming smartphone, which will be launched at an event in Mumbai on May 17. It's interesting to see the Chinese smartphone maker take such a bold approach, especially considering the cameras in OnePlus smartphones hasn't been the company's strongest suit. Things could be changing for the better with OnePlus 6.
Photographer Errikos Andreou shared his experience shooting with the OnePlus 6, which makes it sound getting that perfect shot effortlessly.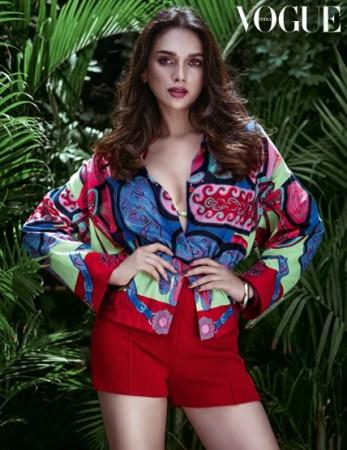 "For the cover shot, we opted for naturally lit photos, using bouncers to manipulate the light. The OnePlus 6 offers a 'pro' option of shooting in 'raw' which is a photo file with added information that allows you to modify images once they are captured and alter aspects like light, warmth, brightness, contrast, colour, etc; much like the file of a professional camera," Andreou said.
OnePlus 6: Everything we know so far
Based on all the information available about the upcoming flagship smartphone by OnePlus, it is expected to come with a 6.2-inch Full HD+ display with 19:9 aspect ratio and a notch up top. The handset will sport a dual rear camera setup, combining 16MP and 20MP sensors with f/1.7 aperture. The front camera, which will also be used for face unlock, will have a 20MP sensor.
For the OnePlus 6, the company is going with the glass back design, hinting at wireless charging support. The handset will also get IP68 certification.
Under the hood, OnePlus 6 gets a Snapdragon 845 chipset, 6GB/8GB RAM and 64GB/128GB/256GB storage options. It will also pack a 3,450mAh battery with Dash Charge 2.0. As for the pricing, the entry-level model is expected to cost Rs 33,999 and the top-variant could get priced as high as Rs 48,999. The pricing is to be yet to be confirmed.
OnePlus 6 will be exclusively available via Amazon India. More details to follow post-May 17 launch. Stay tuned for updates.