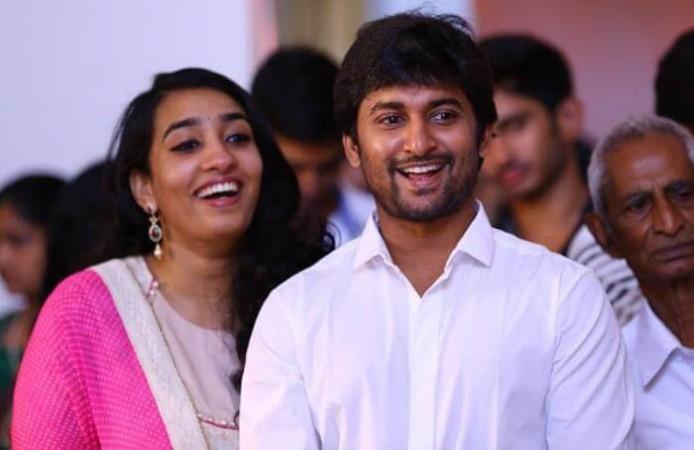 Actor Nani's wife Anjana Yelavarthy has opened up on the allegations of controversial actress Sri Reddy and blasted her for tarnishing the image of her husband and creating trouble for him.
Sri Reddy, who is fighting against casting couch issue, has made serious charges against several people from the Telugu film industry. Nani has been one of her targets and she intensified her attack on him, when her chances of getting into the Bigg Boss Telugu 2 house started getting dim. When she actually lost it, she hurled anger against him and asked him swear on his family and career the he didn't sleep with her.
Natural star Nani, who was keeping mum on Sri Reddy's charges, felt that enough is enough and he slapped her with a legal notice. Later, he took to Twitter to blast her and media for encouraging her. The actor tweeted, "I am NOT going to join the filth by reacting. I am NOT going to give them what they want. Initiated legal action. Legal Notice has been dispatched for filing defamation cases."
Nani added, "The fact that someone can randomly pick up names who are soft targets and spread such absolutely baseless nonsense and think that they can actually get away with it, disturbs me! I'm not worried about me, I'm worried for us and the society we live in. And for those very few who still want to publish all that crap for a few clicks and views.. have some shame. You all have families! The irony is that I even had to say this. There won't be a comment from me on this ever again!"
The fans of Nani were anxious over how his wife Anjana Yelavarthy would respond to Sri Reddy's allegations and whether the isshe would have an adverse effect on his family life. Breaking her silence, Anjana retweeted Nani's Twitter post and expressed her displeasure over her charges.
Anjana Yelavarthy tweeted, "This industry has been kind but it troubles me to see that once in a while there comes along someone who puts their publicity ahead of other people's lives. No 1(one) believes those ridiculous statements anyway. It is abt how little they think before degrading themselves to such levels."
This industry has been kind but it troubles me to see that once in a while there comes along someone who puts their publicity ahead of other people's lives. No1 believes those ridiculous statements anyway. It is abt how little they think before degrading themselves to such levels https://t.co/40tv0zudaf

— Anju Yelavarthy (@anjuyelavarthy) June 11, 2018