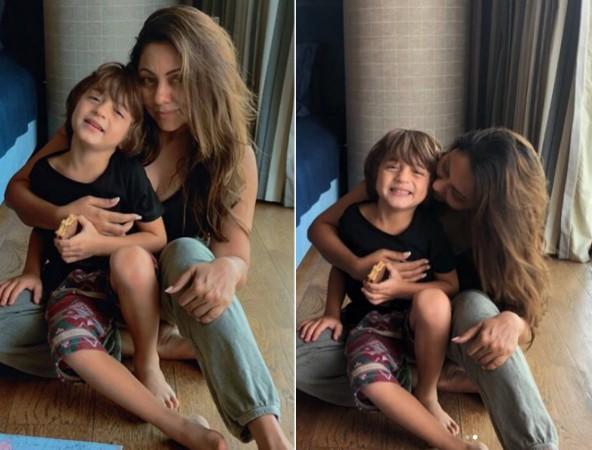 AbRam Khan date of birth: May 27, 2013.
AbRam was born via surrogacy and turned five years old today.
Before Taimur Ali Khan became a sensation, our hearts were all to Shah Rukh Khan's second son, AbRam Khan. The adorable little munchkin was spotted giving his dad company at several Indian Premier League matches and showing his support towards the Kolkata Knight Riders. The young internet sensation was seen donning a cute little KKR jersey while accompanying SRK during the previous season.
The star kid has been missing in action for a while now. And Gauri Khan just showed us what he is up to this summer. Just a few days ago, Gauri and Shah Rukh ringed in Suhana Khan's 18 birthday and now, it is celebration time in Mannat as AbRam turned five today.
Thanks to Gauri, we finally got a glimpse of AbRam this year and he looks all grown up. Gauri took to Instagram to wish AbRam. She posted two portraits with the five-year-old where he is seen wearing a pair of printed pants and a black t-shirt, seated in his mother's lap and holding on to a knick-knack.
In the first picture, AbRam looks reluctant to smile for the camera. However, in the next, Gauri is seen whispering something into his ears and Abram flashing his adorable smile. She captioned the pictures: "Happy bday, my gorgeous ..."
For those unaware, AbRam was born via surrogacy in 2013. Although Gauri and SRK's decision to welcome their third child was applauded by several fans, a few tongues got wagging and rumours spread that AbRam was then 15-year-old Aryan's love child.
However, SRK shut down all rumours in a recent TED Talk. "Four years ago, my lovely wife Gauri and me decided to have a third child. It was claimed on the net that this child was the love child of our first child, Aryan Khan, who was 15 years old. Apparently, he had sowed his wild oats with a girl while driving his car in Romania. And yeah there was a fake video to go with it. And we were so disturbed as a family. My son, who is 19 now, even when you say hello to him he says, 'But bro, I didn't even have a European driving license,'" he shared.