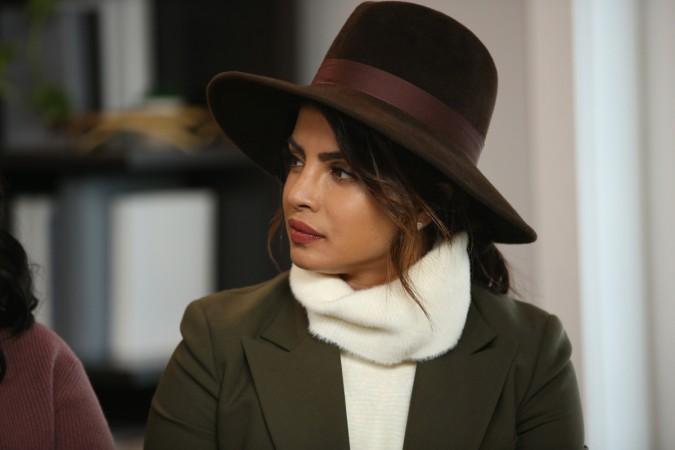 Indians on social media were furious after a Quantico episode portraying Indians as terrorists planning on attacking New York City and frame Pakistan for it was aired last week. The TV show and Priyanka Chopra were slammed for the misconstrued plot.
Following the outrage, ABC issued an apology defending the Alex Parrish actress. "ABC Studios and the executive producers of Quantico would like to extend an apology to our audience who were offended by the most recent episode, 'The Blood of Romeo,' " the statement read.
"The episode has stirred a lot of emotion, much of which is unfairly aimed at Priyanka Chopra, who didn't create the show, nor does she write or direct it. She has no involvement in the casting of the show or the storylines depicted in the series," it added.
"Quantico is a work of fiction. The show has featured antagonists of many different ethnicities and backgrounds, but in this case we inadvertently and regrettably stepped into a complex political issue. It was certainly not our intention to offend anyone," the makers shared.
However, Indians were not entirely convinced with the apology. Many blamed Chopra for playing along with the story, while some asked the actress also to break her silence and apologise.
"Retweet if you consider @ABCNetwork's apology useless unless @PriyankaChopra personally apologises for Quantico's shameful Hindu terror plot. Let's show the world, the power of a silent, peaceful protest for justice. [sic]" Sonam Mahajan tweeted.
"Priyanka Chopra is not a newbie or some small-time actor who works on others' terms and conditions which means that she wasn't forced to do, what she did in Quantico. So please, don't give her any benefit of doubt. She did, what she believes in," the popular TV panellist added.
"ABC apologises to Indians for Hindu Nationalist Terror Plot portrayed in Quantico. What's holding Priyanka Chopra back from Apologising?Sell outs like her are an insult to India. She consciously consented for the act.Shame. More power to India & Indians," journalist Jagrati Shukla tweeted.
No excuses. Just as @priyankachopra would not shame herself doing a porno role (even when someone else is producing & directing), so also she must protect the dignity of her culture. SHAMEFUL! https://t.co/EGUOM47aES

— Rajiv Malhotra (@RajivMessage) June 9, 2018
It's nt abt PC creates/writes/directs the show or not. It's abt Y she didn't oppose the dialogue/scene defaming India on international stage. She is representing the Nation. She must apologise to Indians as Indian dnt care abt ABC network's apology. PERIOD.

— Rutul - ???✌?? (@rutulove143) June 9, 2018
It's nt abt PC creates/writes/directs the show or not. It's abt Y she didn't oppose the dialogue/scene defaming India on international stage. She is representing the Nation. She must apologise to Indians as Indian dnt care abt ABC network's apology. PERIOD.

— Rutul - ???✌?? (@rutulove143) June 9, 2018
Oh come on, may be she is not a director or writer but she can think - how can I act in a film in which our Indians are projected as a terrorist?

— Ujjwal pandey (@ujjwal980) June 9, 2018
Seriously. You are saying it as if she is a toddler and had no awareness about what is in the script? C'mmon any proud Indian wont stoop to this level for some money especially when she could only get there because indian people made her what she is

— Pushkar Prasad (@Pushkarp) June 8, 2018