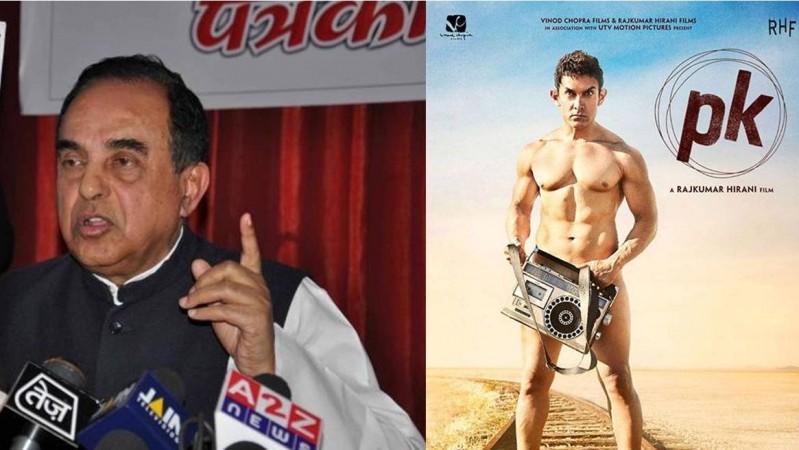 Bharatiya Janata Party (BJP) leader Subramanian Swamy has grabbed the limelight once again with his latest tweet on Aamir Khan's "PK".
Swamy ignited fresh controversy by stating that Rajkumar Hirani's directorial film has been funded by ISI. The BJP leader has also asked Directorate of Revenue Intelligence (DRI) to investigate the source of the film's funds.
"Who financed the PK film? According to my sources it is traceable to Dubai and ISI. DRI must investigate," Swamy tweeted on Monday.
"A Sikh delegation has told me that PK film has disparaged a Sikh as a begger. Sikhs never beg. Action to follow."
"A complaint will go soon to initiate action under PMLA on Aamir Khan & co for laundering terrorist finance. I hope MoF does not block it."
The tweet, which went viral on Monday, has been retweeted more than 2200 times until now.
Aamir and Rajkumar Hirani have received threats from several religious groups and politicians in the country, who have demanded a boycott of the film. Several Hindu organisations and Muslim clerics demanded a ban on the movie for its alleged content.
According to reports, Bajrang Dal activists even vandalised several screens in Gujarat on Monday for its alleged anti-Hindu content.
Muslim clerics too have asked the Censor Board to remove the controversial content.
"I have been told about some scenes of the film that are hurting religious sentiments. If it is so, it is not good and freedom of expression does not give anyone the liberty to trample over the feelings of another citizen. The Censor Board should review the film remove such scenes so that communal harmony is not disturbed," Maulana Khalid Rashid Firangi Mahali, a well-known Sunni cleric and a member of the All India Muslim Personal Law Board (AIMPLB), told Deccan Chronicle.
Controversies related to "PK" has led to a Twitter battle with hashtags "#BoycottPK" and "#WeSupportPK" trending on the micro-blogging site.
Meanwhile, Boman Irani said that people should respect the viewpoint of the makers. Boman plays the role of a news editor in "PK". Reacting to the controversies he said that people should respect the concept of the film.
"People may agree and may even disagree but then they have to respect it (the concept of 'PK') because we are also respecting their view," said Boman, who has a key role in the film.