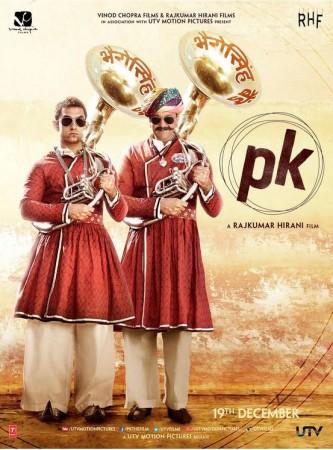 Aamir Khan and Anushka Sharma starrer "PK" is performing well at the worldwide box office, but various religious outfits are protesting against the film, which is said to have hurt religious sentiments of the Hindus.
The film, directed by Rajkumar Hirani, has been in news for all the wrong reasons ever since the first look poster was released. Adding to the list, on Sunday, yoga guru Baba Ramdev also slammed the makers of the movie, and asked Hindu devotees to boycott the film, which has reportedly, disrespected gods, goddesses and Hindu saints.
Bajrang Dal and Vishwa Hindu Parishad activists intruded into Shree Talkies in Uttar Pradesh on Sunday evening and disrupted the screening of the film. They even advised Aamir to go to Pakistan.
The activists tore posters of the film inside and outside the theatre, shouted anti-Aamir slogans and asked the theatre management to stop the film's screening.
The protesters had earlier filed an FIR against the film and demanded the removal of some of the controversial scenes. However, the Censor Board on Monday decided not to delete any of the scenes as it has already been released worldwide.
Many celebs have reacted on the issue and actor Boman Irani, who is also a part of the film, has asked people to respect the viewpoint of the makers.
Check the reactions of people on the latest controversies that have hit Aamir's "PK"
Rupesh
Who the hell is Dilip Cherian to decide that who should hurt & Who should not .#PK is certainly hurting Hindu Sentiments
Dev
News channels doing coverage of BJP workers protesting against #PK bt don't hav Guts to ask Paresh Rawal reaction on this @aajtak @abpnewstv
Anusha Ravi
Y r ther no protests wen Indian cinema commodifies women,exploits kids,propagates chauvinism & domestic violence in cinema? Y target #PK ?
Ankit Bhimani
It's just a story being told.Plus aamir's been shown as an alien.Have they no common sense to understand such a simple thing? #PK
Arhaan
My only question is where was these Bajran dal & VHP 's so cald sewaks during OMG ?? #PK Is it Only bcos d lead actor is a KHAN ?
Griha Atul
Theatres screening #PK in Ahemdabad and Bhopal vandalised by alleged Bajrang Dal activists. #PKVersusFringe
Abdulla Madumoole
How true - "One man's profit is another man's loss" As #PK's collection goes up, @yogrishiramdev becomes nervous!
Vivek Agnihotri
All those gundas attacking cinema halls showing #pk must be arrested immediately and locked up with Asaram.
If these sadhus can unite against #pk why can't film industry unite and ask for a ban against such miscreants?
Ham Bharat ki Log
Why people acting shocked on #PK? Hasnt Bollywood always been Sickular. The #BoycottPK call is democratic BTW. Differentiate bw ban n boycot
Priyashmita Guha
No #PK isn't against Hinduism. It's against the crap we spread in name of God & most importantly tells us God doesn't need us defending him
Vaibhav SR
@madversity #PK never tell us that don't follow religion. It only tells we are same and did not born with label. This message alone is imp.
Ruxana Kalyaniwalla
After watching #PK,was pretty sure of some vandalism and yes there it goes#Ahmedabad#sad state of affairs
chandra sekhar
getting censor certificate does not give a right to so called creative minds to derange Hindu sentiments #PK #BangaloreBlast
Vandana Singh
No protest against movie #MSG,which r really threat to religion like Hindu but protest against #PK,which is just showing mirror to reality !
Sagar
#PK is just a film guys and #OMG was more hard hitting than this. Can't fathom the outraged really.
Nisar
Raju Hirani is brilliant,its a shame that his movie is garnering all the bad word of mouth cz f a sensitive subject 4 india #PKTheFilm #PK