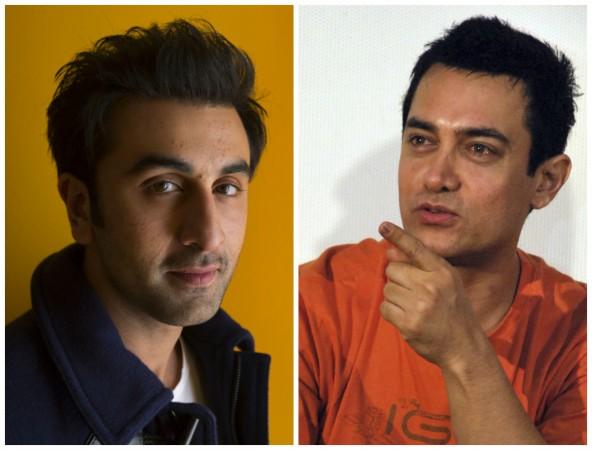 Sanjay Dutt biopic Sanju, starring Ranbir Kapoor is all set to hit the theatres. The film has been directed by Rajkumar Hirani and its trailer has received a pretty good response as Ranbir seems to have nailed Sanjay's look.
The latest buzz is that Mr. Perfectionist Aamir Khan was offered a role in Sanju, but the superstar rejected it.
According to reports by The Quint, when Aamir Khan was asked about the reason, he told the Daily, "As an actor, I told Raju 'Yaar, Sanjay Dutt's role is so amazing that, that the role has won my heart. So in this film, I can't do any other role but Sanjay Dutt's.' Which I can't do because Ranbir is doing it. So then don't offer me any other role because I can't come to set thinking 'Hmmm....those lines should have been mine.' "
According to Aamir, the film's portrayal of the father-son relationship between Sunil and Sanjay Dutt is fantastic. The Dangal actor revealed how moved he was when he saw Sanjay Dutt's character on screen, and he is sure that Ranbir Kapoor has done a good job playing that role. Just like the fans, he too cannot wait to watch the film.
Sunil Dutt's role in the film is played by Paresh Rawal.
Aamir also spoke about how close he was with Sanjay Dutt's father, and revealed a particular incident during the 1993 Mumbai riots that touched his heart. The film Industry had taken a delegation to the then chief minister Sudhakarrao Naik, requesting him to bring the army and stop the riots.
"Dutt sahab, Yash Chopra, Johnny Walker, me and the fifth person was a producer, I am forgetting his name. So five of us stayed alone at night, everyone left. At that time, we didn't have any security and all. There was absolutely nobody. Only the five of us and we spent the whole night under the statue and in the morning others came with chai. We sat there for three to four days as a non-violent protest." Told Aamir to The Quint.