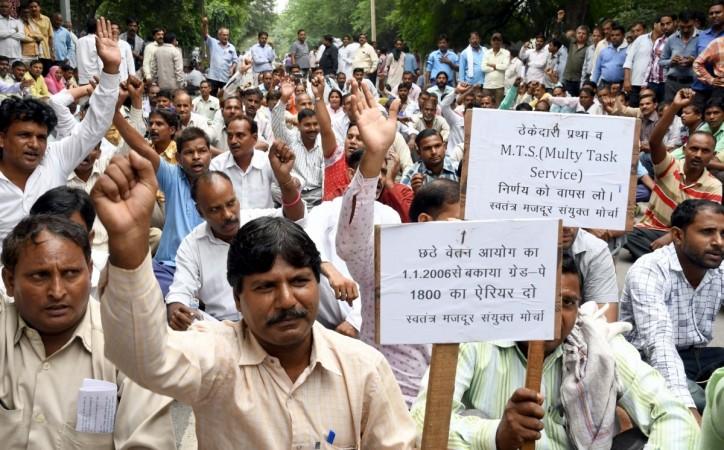 The Seventh Central Pay Commission (CPC) resolution of the government has been published in the Gazette of India. The revised rates of the allowances shall come into effect from 1st July 2017 and shall affect more than 48 lakh central government employees, the Economic Times (ET) daily said on Friday.
For central government employees belonging to highest level in the pay matrix, HRA has been increased from Rs 27,000 to Rs 60,000 -- a hike of 122 percent. However, the HRA for these employees will be revised upwards to Rs 67,500, and Rs 75,000 when DA crosses 25 percent and 50 percent respectively. The revision will translate into a 148 and 176 percent hike respectively.
While approving the recommendations of the 7th CPC on 29th June, 2016, the Cabinet had decided to set up the Committee on Allowances (CoA) in view of substantial changes in the existing provisions and a number of representations received.
For most of the allowances that were retained, the 7th CPC recommended a raise commensurate with inflation as reflected in the rates of Dearness Allowance (DA). Accordingly, fully DA-indexed allowances such as Transport Allowance were not given any raise.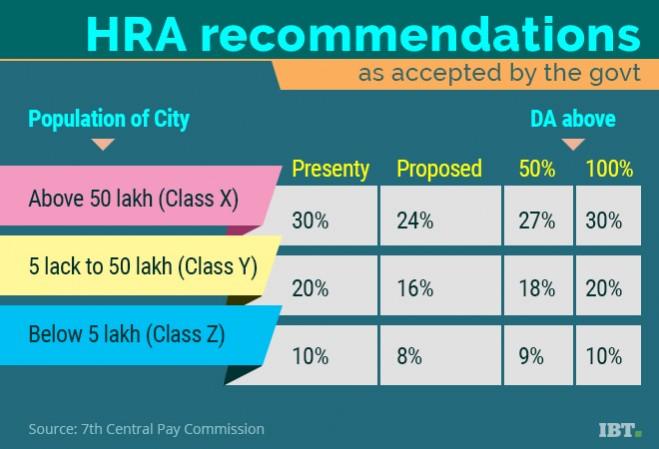 Allowances not indexed to DA were raised by a factor of 2.25 and the partially indexed ones by a factor of 1.5. The quantum of allowances paid as a percentage of pay was rationalised by a factor of 0.8, the ET report said.
As far as House Rent Allowance (HRA) is concerned, the recommendations of the 7th CPC were retained and HRA was rationalised by a factor of 0.8.
At present, house rent allowance (HRA) is paid at the rate of 30 percent for X category of cities (cities with population of 50 lakh & above), 20 percent for Y category of cities (cities with population of 5 lakh to 50 lakh) and 10 percent for Z (with population below 5 lakh) category of cities. 7th Central Pay Commission had suggested that these existing rates be cut to 24 percent for X, 16 percent for Y and 8 percent for Z category of cities.
The government has also accepted the Pay Commission's recommendation to revise rates under the Army's 'Siachen Allowance'. The rates have been revised from Rs 31,500 to Rs 42,500 per month for officers designated at Level 9 and above, and Rs 21,000 per month to Rs 30,000 per month for officers at level 8 and below.
The government felt that the HRA at the lower suggested rates may not be enough for employees in lower pay brackets, the ET report said. Consequently, it decided that HRA shall not be less than Rs 5,400, Rs 3,600 and Rs 1,800 for X, Y and Z category of cities respectively. This floor rate has been calculated at 30%, 20% and 10% of the minimum pay of Rs 18,000. This will increase payouts to more than 7.5 lakh employees across Levels 1 to 3.
The modifications approved by the government in the recommendations of the 7th CPC on allowances will lead to a modest increase of Rs 1,448.23 crore per annum over the projections of Rs 29,300 crore per annum made by the 7th CPC.
The 7th CPC had also recommended that HRA rates should be revised upwards in two phases to 27 percent, 18 percent and 9 percent when DA crosses 50 percent and to 30 percent, 20 percent and 10 percent when DA crosses 100 percent. However, the government has been more generous and decided that these rates will be revised upwards earlier i.e. when DA crosses 25 percent and 50 percent respectively. This will benefit all employees who do not reside in government accommodation and get HRA.
Ration Money Allowance (RMA) given to soldiers posted in peaceful areas will continue as per the newly proposed Risk and Hardship Matrix, the Commission's statement said. "RMA shall continue to be paid to officers of Defence Forces posted in peace areas. The cash shall be credited directly into the bank accounts of officers," the statemene said.
The nursing allowances for nurses in government hospitals and health centres has been revised from Rs 4,800 per month to Rs 7,200 per month.