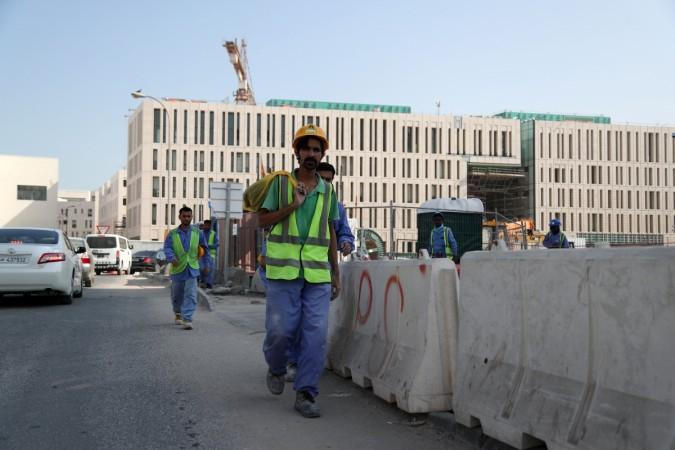 Qatar has been on the radar since June 2017, after seven Gulf countries, including Saudi Arabia, Bahrain, Egypt and the United Arab Emirates, severed diplomatic ties with it on charges of funding terrorism. Considering the country is witnessing tough times, business too has hit a slump with several migrant workers, including Indians, rendered jobless.
It is now being said that over 600 Indians, working on the infrastructure of the 2022 football World Cup, have not received salaries for almost six months. Not just that, many of them lost their jobs, and have been living in deplorable conditions after their visas have expired.
An Indian official explained that about 300 of these workers have been provided with other jobs and many have even been brought back to India, but there are scores of workers who have been struggling to make ends meet, reported Hindustan Times. The unemployment situation got worse after the Qatari firm HKH General Contracting Company faced a major financial crisis.
"We are now left to the mercy of people who help us on a charitable basis for food. We do not even have electricity in the daytime, but just about manage to get generators running in the night," HT quoted S Kumar, a native of Kerala who worked with the company for eight years. He also said that the situation is such that he hasn't been paid for the last six months.
Detailing his ordeal, another Indian, who worked as a plumber, said that he has been waiting to get paid. He added that he couldn't even go to the hospital as authorities would find out that his visa had expired and there would be legal repercussions.
"I had to borrow money to arrange for my flight back home. I feel hopeless. I pawned my property to come here two years ago. This is what life has given me here,'' added another worker.
Now, the Indian embassy in Qatar has approached the administrative development, labour and social affairs ministry and seeking assistance, and the Indian community is said to be helping the workers and providing them with essentials.
The nation has been pulled up in the past for ill-treating its migrant workers readying venues for the mega show.
Amnesty International had earlier said that migrant workers readying the infrastructure for the 2022 World Cup have been facing "appalling treatment" for a while now.
The NGO for human rights had spoken to 132 contract workers readying the Khalifa International Stadium in Doha and 102 landscapers working at the Aspire Zone sports complex and they said that they have faced human right abuses of some form or the other, reported the Guardian. These abuses ranged from being forced to live in dingy and seedy homes to working in extremely high temperatures.
"My life here is like a prison. The work is difficult, we worked for many hours in the hot sun. When I first complained about my situation, soon after arriving in Qatar, the manager said, 'If you want to complain you can, but there will be consequences. If you want to stay in Qatar, be quiet and keep working.' Now I am forced to stay in Qatar and continue working," one of the workers had said.