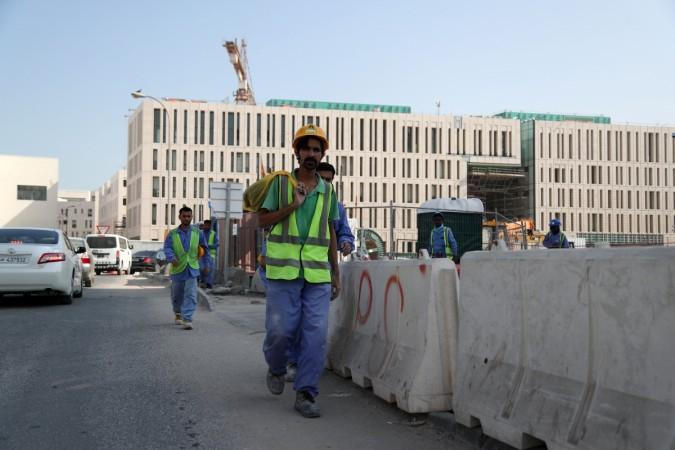 Even as many hope that the Qatar Crisis comes to an end soon, its effects on people living in the country only seem to be worsening. While the crisis has had an impact on numerous people and industries in the country, the worse hit seems to be the lakhs of migrant workers.
It has been almost two months since the crisis began and migrants in the construction, hospitality and shipping industries are increasingly feeling the heat. Migrant workers in these sectors have now been asked to go on "unpaid extended leaves," according to migrant-rights.org.
The unpaid leave is likely to be extended to about three-four months, in addition to the usual one month paid leaves that the workers get.
The hospitality sector, which usually thrives during the tourist season, seems to be down in the dumps since the crisis began. While official figures have said that the hotels have been witnessing a 61 percent occupancy rate, the employees have a different story to tell.
"Six restaurants in our hotel have been closed. We have more than 550 rooms but only a few are occupied now. Most of our restaurant staff and others have been sent on long leave," the website quoted Leela, a five-star hotel employee as saying. "It's in addition to the entitled annual leave. Some are sent on three months, others on four months of extra leave. But they won't pay for this additional leave. Although they assure us, we are not sure if will be called back to work or the hotel will extend the leave."
Another employee Sarah said that the hotel had earlier given them an option of taking a six-month unpaid leave as the business was slow. Later some of the employees were asked to take a two-month unpaid leave.
Meanwhile, it is not just the junior employees going on unpaid leaves and senior executives too are said to be in the same boat. The general manager of a Doha hotel refuted rumours that juniors were being forced to go on leave and said that the business is so slow that everyone in the industry will need to take these leave in turns.
"We usually get a lot of visitors from the UAE and KSA. This has come down to zero. When Saudi has a holiday almost 40% of our (hotel) residents are from there," he revealed on condition of anonymity. "We have over 1000 workers on our property, 100% are employed by us directly. Every one of us will be going on (unpaid) extended leave in rotation, including me, at some point. We are not forcing anyone."
When asked if the employees would eventually be asked to leave he said that they will also have a job to come back to and no one is being asked to leave.
The construction industry too is not having it easy. Considering Qatar has been boycotted by seven Gulf countries including Saudi Arabia, Bahrain, Egypt and the United Arab Emirates, for allegedly funding terrorism, it is having a tough time importing raw materials.
"There are some materials in stock, but they'll run out soon. It will take at least six months to bring materials from other countries and to find alternative routes. Some of our staff on annual leave have been asked to not return for a couple of months," a quantity surveyor at a construction company said.
Meanwhile, migrants are not just worried about their jobs but also the cost of living that is reportedly hitting the roof. "If this continues, there will be problems for people like us, the workers. The price of food will go up and there will be no jobs," Ajit, an Indian electrician in Qatar, earlier told AFP. "In some supermarkets, the price of rice, tomatoes and onions has increased," he said. "Where I was spending one riyal on each item, now it is double that."
Another migrant worker from Bangladesh said that he usually buys apples for seven riyals a kilo, but now he has to shell out 18 riyals for the same.