The Hindi film industry has come a long way in the past two decades, and the commendable changes that have been made in all aspects of film-making have made Bollywood a force to reckon with.
Also read: Bollywood, for its own sake, needs to look outside, says film critic Shubhra Gupta | INTERVIEW
India has changed a lot in the past two decades, and so have the movies coming out of the country. Noted film critic Shubhra Gupta's book 50 Films That Changed Bollywood, 1995-2015 looks at some of the movies during the past two decades that reflected social attitudes and the changing mindset of Indian cine-goers.
To grasp a sense of how far Bollywood has come, Gupta has given a short background of the movie industry from the 1970s to the 1990s. These 20 years witnessed the rise of Amitabh Bachchan and the slow decline of Rajesh Khanna, who was one of the flag-bearers of old-style Hindi cinema. "Only when we get an idea of the ebb and flow of Hindi cinema in the preceding two decades can we appreciate just how radical some of the departures were in the 1990s," she writes.
Gupta's list begins with Dilwale Dulhania Le Jayenge, the 1995 movie starring Shah Rukh Khan and Kajol that can be credited for making their careers. The film hit theatres just a few years after liberalization, and Bollywood has not been the same again, as more and more films post DDLJ began reaching out to the nostalgia-driven NRIs.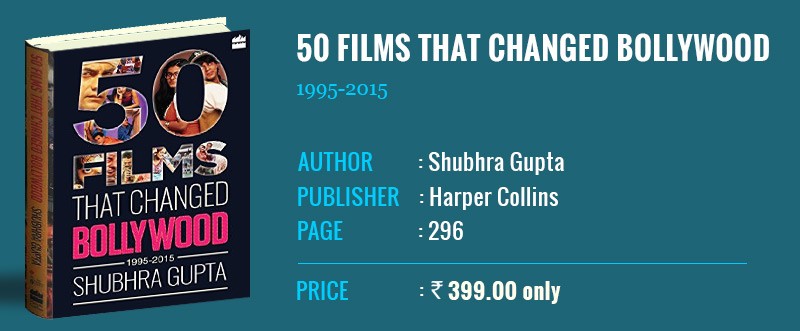 Other hits like Rangeela, Kuch Kuch Hota Hai, Kaho Naa.. Pyar Hai and Golmaal: Fun Unlimited have all found a place in the top 50, which ends with Bajrangi Bhaijaan. But it's not just popular films that took the Hindi film industry to new heights. Gupta also praises box office duds like Dil Se and Haasil for being game-changers, as these movies achieved in changing the perception of the audience and catching a moment in history.
Along with her original reviews of the movies, Gupta also gives convincing reasons on why these movies deserve a place on the list of films that changed Bollywood.
Besides reviews, 50 Films That Changed Bollywood, 1995-2015 also contains candid shots of directors and actors who changed the face of Bollywood in the past two decades.
The book is a must-read for anyone who is curious about the transformation of the Hindi film industry into Bollywood, and to find out why some films will always remain classic.