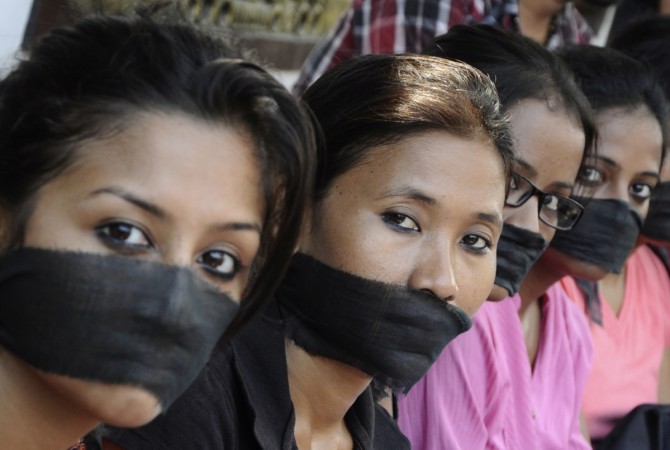 Despite law amendments and call for strict measures to prevent crimes against women, India continues to witness rape incidents across the nation.
Adding to the list of rape incidents in India, three teenagers were gang raped in two different states on Saturday night.
Two teenage sisters, aged 13 and 16, were reportedly raped by their landlord in Gurgaon's Binola village, while a 16-year-old Adivasi girl was raped by four college students near the Dibrugarh railway station in Assam.
In Gurgaon, the drunken landowner barged into his tenant's house along with three others. They reportedly locked up the girls' mother and brother inside the house and forcibly took the minors to a barren building, where they were gang raped.
All the four accused—Ramavtar, Ram Kishan, Mantosh and Ombir, were arrested following a police compliant by victims' mother at the Bilaspur police station on Sunday morning.
However, the accused claimed that he is innocent and said that the family is alleging false accusations against him as he asked them to empty the house on Saturday. Anyhow, the medical reports are awaited, which would ascertain the crime.
"The accused claim the charges are false. An FIR has been registered against the accused under sections 376-D, 342, 448, 452, 323, 506 of IPC and the POCSO act,' Times of India quoted Joint Commissioner of Police Vivek Sharma.
In the other incident, the 16-year-old girl was raped while heading towards Dibrugarh railway station in Assam with her brother at around 11.10 pm on Saturday.
Four college students, who were sitting on their bikes parked at the roadside, attacked both of them. They tied and threw the boy in the paddy fields nearby and gang raped the girl.
The police on patrolling duty incidentally reached the spot a moment before the accused were about to desert the crime scene. They fled the scene seeing the police, however, the officials managed to catch one of them, Pranjit Dutta, on the spot.
While two of the fleeing accused—Karun Gogoi, Kalyan Dutta—were arrested later that night, the fourth one, Raju Gogoi, is still absconding.
The Dibrugarh police station has registered a case against the four under the Protection of Children from Sexual Offences Act, 2012, according to TOI.
The girl has been sent for medical examination, while her brother has been rescued.