Former English off-spinner Graeme Swann paid in-form Kuldeep Yadav a huge compliment when he said he hadn't witnessed as good a spell of wrist-spin bowling as the Indian spinner's at Trent Bridge on Thursday since the days of the legendary Shane Warne.
Swann, who picked up 255 wickets in a five-year-long Test career for England, expressed concerns over the English batsmen's inability to read Kuldeep despite having faced him in the recently-concluded three-match T20I series.
Kuldeep continued the fine form he has been displaying in the ongoing UK tour with a stunning performance in the first of the three-match ODI series against England earlier today.
The 23-year-old ended his 10-over quota by claiming the best figures for a left-arm spinner (6/25) and also became the first left-arm wrist-spinner to pick up six wickets in an ODI. It was also his second five-wicket haul in the ongoing tour following the 5/24 in Manchester that broke the back of English batting order in the first T20I earlier this month.
None of the English batsmen were able read him off the hand and paid the price with their wickets as the hosts were bowled out for 269, which was gunned down with ease, thanks to a Rohit Sharma ton.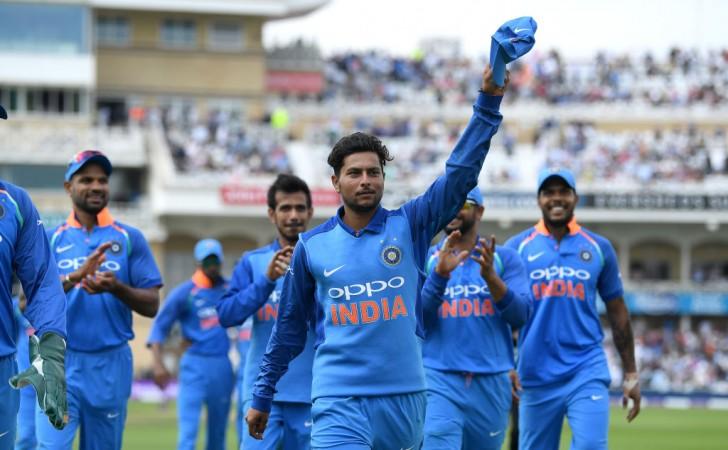 English Test captain Joe Root and wicketkeeper Jonny Bairstow had no clue as to which way the ball was spinning before they were trapped in front.
On a track where they had scored a record-setting 481 against Australia last month, the English batsmen were made to struggle.
England haven't found a solution to tackle Kuldeep: Swann

"He [Kuldeep] bowled exceptionally well. This is as well as I have seen a wrist-spinner bowl since Shane Warne. I am not saying he is better than Shane Warne," Swann said during the mid-innings panel discussion on Sony Six.
"They've seen him in two T20I internationals, they have got a wealth of information on computers. They would have sat down and watched him... studied him and yet today he has come out and completely bamboozled them. That's what makes me worry a bit. They have not come up with anywhere near a solution to Kuldeep," the 39-year-old added.
"There was a little bit of turn, not a great deal. But once the ball got old and when he was bowling to Stokes, he ripped a couple past the outside the edge. Early on, there is a bit of indecision from the batsmen because they simply cannot pick him."
England will be in a lot of trouble if Kuldeep plays Tests: Swann
Swann also backed Kuldeep to make the playing XI for the first of the upcoming five-match Test series, starting August 1 in Edgbaston and expressed confidence about his ability to do well with the red ball in English conditions.
"Root went back, thinking it was a top spinner or a googly. But it was a normal leg-spinner. This is our best batsman... our best Test batsman. That's why if Kuldeep is given the red ball in three week's time, England are in a lot of trouble," Swann said.
"That's because he didn't get his wickets in a normal one-day fashion — a couple of dot balls and the batsman going for a big hoick and getting caught in the deep.
"These are from genuine, pitched on a good length and beaten the batsmen on the flight and off the pitch. It was class bowling from Kuldeep.
"That good length he consistently hit... that is what is telling me he will be dangerous in the Test match."
Team India have been focussing on focusing well in Tests, especially after the debacles under MS Dhoni's leadership in 2011 and 2013/14 seasons.
It will be interesting to see if captain Virat Kohli sticks with his top-ranked Test bowlers in Ravichandran Ashwin and Ravindra Jadeja or gives the young Kuldeep an opportunity to have a go at the English batsmen in the longest format of the game.