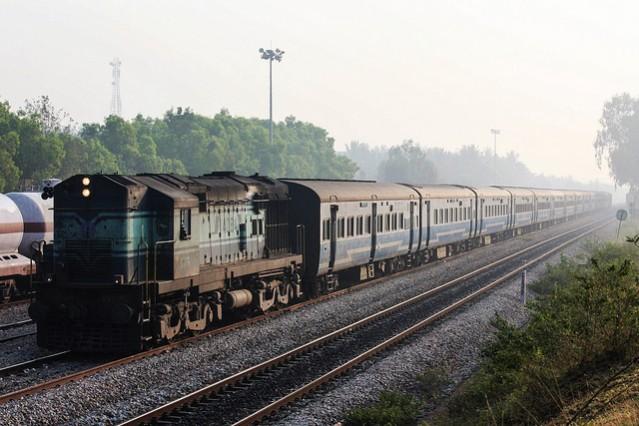 While passengers traveling on Indian Railways are often advised to consume food from the pantry of the train instead of the railway station over fears of them falling sick, it looks like pantry food isn't that safe either, no matter which train it is. At least 40 passengers of the Puri-Howrah Shatabdi Express reportedly fell sick after consuming the breakfast served in the train Wednesday, May 23.
Of these, 14 had to be hospitalized in Kharagpur after they complained of uneasiness and nausea.
"Initially, two passengers complained of vomiting and uneasiness when the train reached West Midnapore district's Belda station. A doctor was immediately rushed to attend the passengers. Later, 15 others complained of similar symptoms," Sanjoy Ghosh, chief public relations officer of the south eastern railway, told IANS.
He also explained that due to this, the train was delayed for about an hour. The passengers were later discharged after a medical check-up.
K Rabin Kumar Reddy, divisional railway manager (DRM) of the Kharagpur division of south eastern railway, initially said that the passengers may have bought food from the hawkers and consumed it, hence falling sick, but the passengers refuted these claims and said that they had eaten the breakfast served in the train by the Indian Railway Catering and Tourism Corporation (IRCTC).
"We were served omelet and bread after the train left Bhubaneswar. After a while we started having abdominal pain. Most of us were vomiting," Hindustan Times quoted Kakali Sengupta, a passenger and resident of Siliguri in north Bengal.
Echoing her thoughts, another passenger Rabin Majumder added: "We were returning from Puri. None of us bought food from hawkers or shops outside the station. We took the breakfast served by the railway staff."
The samples of the food have now been collected and sent for tests. Reddy also explained that an inquiry will be conducted to find out if the vendor had bought food from other hawkers.
Ghosh added: "However, it is unlikely because nearly 500 passengers in the train were served the same food while a small proportion of them complained of food poisoning."
The passengers who fell ill were all said to be traveling in coaches C1 and C2.