The name Carrie Bradshaw reigned the world before the likes of Blair Waldorf and Serena van derWoodsen took over the podium for being the biggest fashion idol.
Yet, twenty years down the line, the crurly haired blonde, running around the streets of New York with cosmo and cigarettes, looking for her 'Big' love still manages to wow and amaze all the singles about love, life, relationships, fashion, and most importantly, sex.
Also read: Best of Carrie Bradshaw's quotes
And even though she did have her infamous 'What was she thinking?' moments when it comes to poor choices – both in terms of fashion and men, there are certain phenomenal looks from this blockbuster series that you just cannot forget. And guess what! There are a couple of styles that you can still effortlessly pull off. Let's wind up the top 10!
1. THE FAMOUS TUTU
Carrie Bradshaw made tutus seem like an everyday casual wear when she strutted along the streets of NYC in the opening credits of the series.
Her tutu gets drenched in roadside water, but it makes a comeback in the first movie again – during her big clean-up before moving in with Mr. Big. And much like her 'gals's unanimous vote on the outfit – it's forever going to be a must keep!
2. PARISIAN STRIPES
Carrie was impulsive and outrageous at times, but she knew her fashion better than her moods. And as expected, she toned both down to a balance with her all-striped ensemble in Season 6 when she moves to Paris for Alexander Petrovasky.
The look resonated soft, romantic aesthetics – something that pretty much everybody identifies Paris with. And of course, her signature flower was an added bonus!
3. LADY ON THE RAMP
Remember when Carrie Bradshaw had that great fall on the runaway in a blue Dolce and Gabbana trench coat and flaunting a bedazzled, nude-mesh panty? Maybe not the runway, be it seems quite the ideal choice of ensemble for a mood-lifter on a romantic rendezvouz.
4. THE ENTRANCE-MAKER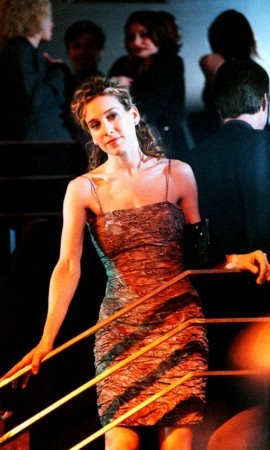 If there was one thing Carrie was known for, it was making an entrance – and it was established in this Season 1 mini dress. Strategic bits of sparkle that the club's dim lighting would complement and voila – all eyes on her.
5. EVERY 'COVER-UP'
From her iconic fur coats to mesh tops and a sequined kaftan – every time Carrie covered up, she covered up in bizarre fabrics that would only go on to become iconic statements. There's class, sass and tons of bada**!
6. THE BIG GOODBYE
She wore this on her farewell-of-sorts date with Big and it went on to become even more memorable after Miranda's water broke on the ruffled, rose Louboutins. But it is the lace slip teamed with a floral coat that makes it to the this list. And she exuberates oodles of poise and grace even in her hot-mess situation.
7. WAITING FOR PETROVSKY
How dare he stand her up! How dare any man stand her up – just look at that dress!
It was all sorts of grand and over the top – something her expectations revolving around a Parisian romance seemed to be, as she waited and waited for the one that never turned up.
Sure, she has her Oscar de la Renta fairytale McDonald's twirl with him in a separate scene, but it doesn't match up to this grandeur. It was clearly Petrovsky's loss.
8. FLOWERS ALL OVER
Carrie's oversized flowers throughout the series were a peep of Sarah Jessica Parker's love for flora. From the first time she laid eyes on Aidan Shaw to that moment where she indulged in kissing Alanis Morissette over a game of spin-the-bottle, it's was flower-power all over!
9. CLASSIC CARRIE
Only in Carrie Bradshaw's world would her signature, classic aesthetic pan out from sleek, slimming body fitting minis to simple silk bias-cut dresses. She met her boyfriend's ex in black, strapless dresses and interviewed for a job at Vogue in stripes. And she got drunk there – perfection!
10. NEWSPRINT DRESS and PATCHWORK COAT
It's a tug of war between the two: The newsprint dress symbolizes all that she has to put out and gets dished at throughout the series; the patchwork coat is flaunted in an episode about body image and self perception. Considering hipster, indie fashion these days – we'll take two of each!
Fun fact: You can relive those moments yet again, just by tuning into AXN, every Monday to Friday at 11 PM!