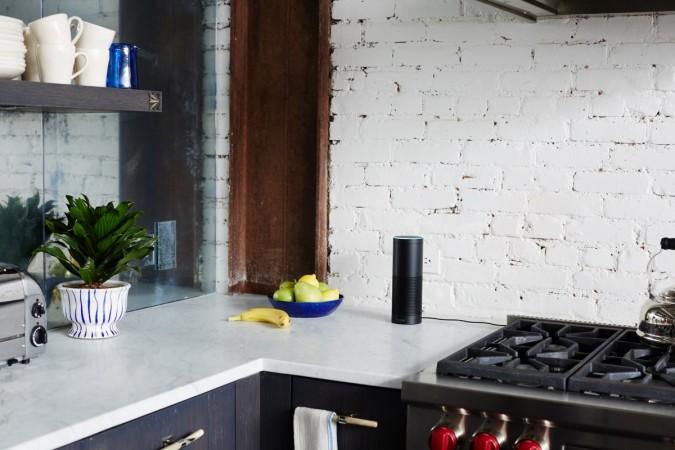 You could end up breaking your head if you are planning to set up a smart home, as there are too many gadgets to choose from in the market. You may also get confused with the specifics. So it is important to purchase the right product for your smart home.
Here are 10 devices you need for an ultimate smart home in 2017:
1) Amazon Echo: This voice-activated smart Bluetooth speaker is much more than a speaker. It comes with features like reading audio books, weather check, and online shopping. It can also control smart home hubs. The device costs $179.99.
[READ: Gadgets for your smart home: Bediator, dish cleaner, robotic vacuum cleaner, wireless sensor]
2) Ecobee3: It is a smart thermostat with a price tag of $198.99. It ensures that temperature in all the rooms in your house is the same. It also supports other smart gadgets like HomeKit and Amazon Echo.
3) Nest Cam Indoor: It is perhaps the best indoor smart camera currently available in the market. Priced at $177.91, this camera can record video in 1080p, comes with features like sharp night vision and powerful digital zoom, and supports other gadgets. It also has a magnetic base, allowing the owners to place it wherever they want.
4) Samsung SmartThings Hub: This smart home hub is a "must have" to integrate and control all the smart gadgets in your house. It comes with a price tag of $99 for the second generation version.
5) Kwikset Smartcode 916 Touchscreen Electronic Deadbolt: Priced at $109, the smart home lock makes you enter two random numbers before punching the code to ensure that burglars can't find your code from the fingerprint. It can be connected with several smart home gadgets and even sends out an alarm if someone breaks into the house.
6) SleepNumber it Bed: It is a smart bed that tracks your sleeping habit, movement and health, including heart rate and breathing. It also connects with other gadgets like Fitbits, Nest Thermostats, health apps and others. Its price starts at $799, and goes up to $1,499 for a King-size bed.
7) BeOn Starter Pack: This smart security lighting comes with a price tag of $129. It gives light when power goes off and turns on automatically when the doorbell rings. It has the potential to prevent theft.
8) Scout Home Security System: It is perhaps the best DIY security system currently available in the market. Priced at $39.99, owners can customise security set-up on this device.
9) Nest Protect (2nd generation) Smart Smoke and Carbon Monoxide Alarm: This smart smoke detector features electrochemical carbon monoxide sensor, heat sensor, humidity sensor, occupancy sensor, and ambient light sensor. It is priced at $99.
10) Fisher-Price Newborn Rock 'n Play Sleeper with SmartConnect: It is a smart baby cradle priced at $99.99. It is soft and comfortable. Parents can set vibration, swing and music to give a calming experience to babies.