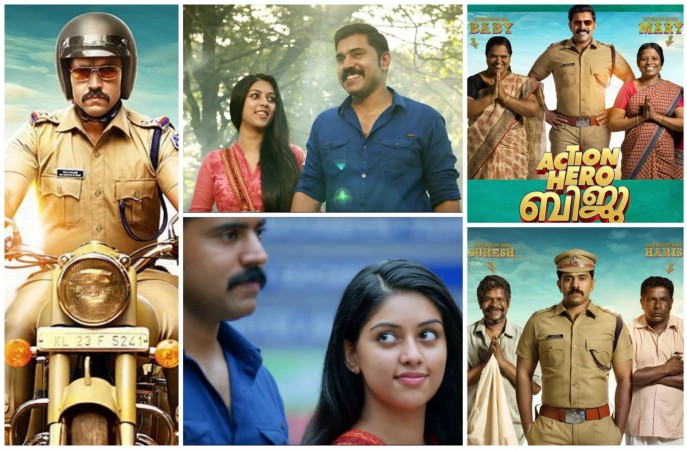 After blockbuster "Premam", Nivin Pauly is all set to rule the Kerala box office once again with his latest release "Action Hero Biju", which is the directorial venture of Abrid Shine. The movie has Anu Emmanuel opposite the young actor.
The comedy entertainer, which shows the day-to-day incidents in the life of a police officer named SI Biju Paulose of Janamaithri Police Station, has been receiving tremendous response from critics and audiences alike. However, "Action Hero Biju" is not like the usual mass action thrillers by superstars, but is a realistic cop story that has a fresh story to it.
Read more: Action Hero Biju IBTimes India Review
Read More: Action Hero Biju Audience Review
The Nivin starrer was released in almost 131 screens in Kerala alone on Thursday and has been released in 116 theatres outside Kerala and more than 10 screens in the USA on Friday. The movie has been jointly scripted by Abrid and Muhammad Shafeeq. While the background score is by Rajesh Murugesan, the songs have been composed by Jerry Amaldev. "Action Hero Biju" is the debut production venture of Nivin under his home production banner Pauly Jr Pictures along with Abrid Shine.
Read More: 5 reasons to watch Action Hero Biju
Celebrities including actors Aju Varghese, Ahmed Sidhique, directors Unnikrishnan Bhaskaran Pillai, Basil Joseph, Roopesh Peethambaran, Dipil Dev, script writers Vivek Ranjit and Arun Kunjunny have lauded the cast and crew of "Action Hero Biju".
Read More: Action Hero Biju critics review
Check out celebrity reviews on "Action Hero Biju" below:
ഇന്നലെ ഞാൻ ' ആക്ഷൻ ഹീറോ ബിജു ' കണ്ടു...പലരാലും പറയപ്പെട്ട്...കഴിഞ്ഞ ദിവസങ്ങളിൽ നിങ്ങൾ കേട്ട് തഴംബിച്ചതാകാം എങ്കിലും ഞാൻ ...

Posted by Salim Kumar on Friday, March 4, 2016
Sreejith IPS, IG
Dear Abrid Shine,
I am Sreejith , an IPS officer of IG rank from KERALA . Watched your movie "Action Hero Biju" and should say that I am thoroughly impressed. You have succeeded in portraying the real professional life of an ordinary police officer and the way in which his personal commitments fall short in a very appealing and positive manner. I am sure that a lot hard work and personal indulgence has gone into the making of this wonderful movie and the effort made for the same by you and your team is quite laudable. Hence, I hereby take this opportunity to whole heartedly congratulate you and your team for the extraordinary effort and expect more such ventures from you in future.
Regards, SREEJITH
Hats off, Abrid Shine and Nivin Pauly! Action Hero Biju is a timely tale told with flourish. It took me through a whole lot of emotions, making me laugh, cry and think at the same time. Be it Nivin, Rohini or Suraj Venjaramoodu, each and every artiste has lived the character. As a film lover, I'm disheartened by the negative publicity surrounding this gem of a movie.
I would definitely rank it as one of the best movies of recent times.
Merin Joseph IPS
Action Hero Biju- wow, what a movie. Finally, justice done to Kerala Police on the big screen. Why ? Aptly highlights the work we do on a daily basis without theatrical exaggeration, unrealistic glamorisation or dilution of the seriousness of the issues police deals with. Life, death, emotions, law- yes dear folks, that's what we grapple with. Go and catch it if you haven't already. Hoping the social messages stay imprinted on the public consciousness for a long time to come. Cheers!
Vineeth Sreenivasan
I went to see Action Hero Biju after listening to extreme opinions and reviews. I have to say i thoroughly enjoyed the film.. It was a whole new experience for me.. I really appreciate ABRID SHINE'S guts in attempting a screenplay that's driven by incidents in a policeman's life rather than following a particular plot.. Quite honestly, i don't think i would dare to experiment something like that. Also, the way he has made every actor perform is amazing. Suraj ettan surprised the entire crowd with a very small but powerful performance. I personally loved the sequence where BIJU PAULOSE lashes out against a few teenagers for getting themselves into "certain habits."
Nivin, i have to tell u this.. In future, u r going to be proud as a producer for making a movie like this. This movie will be appreciated by various levels of audience even after its run in theatres. Action Hero Biju is not Premam. Action Hero Biju is not another formula Cop Story u ha