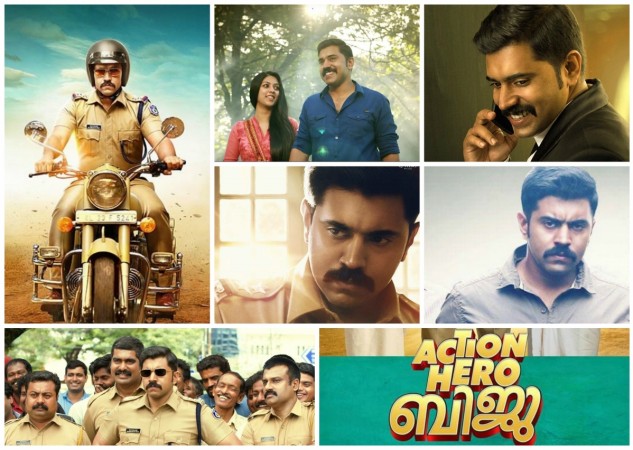 Nivin Pauly and Abrid Shine's "Action Hero Biju" was released on Thursday, 4 January, and the flick did not clash with any superstar movies at the box office. The comedy entertainer, starring Nivin and Anu Emmanuel, was released in 131 screens in Kerala and it is expected to hit the theatres outside Kerala from Friday onwards.
It is one of the much-awaited projects in Malayalam this year as Nivin and Abrid have joined hands again for a movie after their hit project "1983", which won many accolades in 2014. Nivin, who is basking in the success of his previous Alphonse Puthren directorial "Premam", will be seen in the role of a police officer for the first time in "Action Hero Biju". It also marks the debut of Anu Emmanuel as a heroine after her performance as a child artiste in the 2011 movie "Swapna Sanchari".
Read more: Action Hero Biju IBTimes India Review
Read : Maheshinte Prathikaaram Audience Review
Action Hero Biju critics review: Nivin Pauly-starrer is a good ride with SI Biju Paulose
"Action Hero Biju" has been jointly scripted by Abrid and Muhammad Shafeeq and the cinematography handled by Alex J Pulickal. While the songs have been composed by Jerry Amaldev, the background score has been done by Rajesh Murugesan.
Read More: 5 reasons to watch Action Hero Biju
"Action Hero Biju" has been produced by Nivin under his home production banner Pauly Jr Pictures along with Abrid Shine. According to social media posts, the movie is getting good response from the audience.
Check out audience review on "Action Hero Biju" below:
Arun Kunjunny

Action Hero Biju is a movie which is to my liking for the sheer making style. There are not major events which drives the movie, no over-the-top characters who dish out explosive dialogues, no visual extravaganza in terms of camera work but still it leaves a pleasant feeling within. Except for the main protagonist and his 4 police colleagues, nobody takes screen space for more than 5 minutes. The interior of the SI's room and the police station does take more than half of the time in terms of location too. But none of this gives you a feeling of boredom or feel like the sequence is artificially collated. SI Biju is a normal police officer and the movie stays true to the purpose of showing the life of a police officer in the flesh. He might not be Bharat Chandran IPS but he definitely holds his own. Abrid as a film maker gets my respect and the movie has inspired me to believe in my movie. Malayalam cinema is indeed taking a turn for the better and my admiration to all these younger crop of directors who are leading the march to break the mould. Congrats to Nivin on doing a nice movie as a producer first time around. Reality might not be entertaining for some, but it did keep me personally interested.
Vivek Ranjit
Action Hero Biju - Abrid Shine shows us a police officer hitherto unseen in the movies we have watched and takes us through his daily routine and the regular cases and petitions and other incidents that can happen in a Janamaithri police station. Rather than going for a hero v/s villain plot or a series of usual cop-movie cliches, many sequences in this movie are a refreshing change from what we have seen in cop-movies made so far. The director explores many humorous instances and situations that can happen in a police station and also the daily turmoil a police officer has to go through - having fun one minute and seeing death closely in the next and many such fluctuating emotions. Nivin Pauly effectively plays a young, regular sub-inspector who handles each case that appears before him with the same commitment. He shines in the humorous portions as usual and behaves effectively and maturely otherwise, presenting a different police hero - someone who seems like anyone among us, rather than a larger than life cop. Suraj Venjaramoodu is excellent and makes your eyes moist with just two scenes. One of the finest performances I've seen in recent times. Joju George is excellent and its great to see him back in action after a short gap. Meghanadhan, Sohan Seenulal, Jude Anthany Joseph, Kalabhavan Prajod, Devi Ajith, Rony David Raj, Alexander Prasanth are all very effective. But the stronger applause should go to the many new faces - especially the two ladies Baby & Mary and the drunkard singer. They were simply superb! With minimal background score, authentic atmosphere, natural humor, great sync sound and without going for major dramatics & heroism (except in the end), Action Hero Biju scores in portraying the everyday lives of many policemen, especially Biju whose heroism comes from the small things he does. Had fun subtitling this film, and it will open with English subtitles outside Kerala from tomorrow.
Arun G Menon
A perfectly crafted Realistic movie..
Jus like the Tag line of the movie says "A Ride with a police officer"...This movie will take you along with a Police officers busy official Life..
Movie at the starting may feel a bit lag majority of the scenes takes place in the background of a police station. Just like u visualuse a CCTV footage kept in a police station the Director adopted such a way of Narration to make it more realistic. There is no an actual Storyline but this movie is all about few lively Fragments of a Sub Inspector Biju Poulose(Nivin).
Current affairs..Social Message ..Attitude of a PoliceMen towards that are well appreciated in this flick. All characters given maximum justice towards their roles but the much appreciated performance was noted by Suraj his character will leave the audience in tears..Special appreciation To Director Abrid Shine for a different experimentation in the Subject also by writing Dialogues which is not at all Dramatic..And this movie is also a Reply from Nivin Pauly to those who critisise him saying he is fit only for those New Generation roles..He actually moved out from his comfort zone and given good efforts as SI Biju Poulose..
[This movie is not fitting in an Masala Entertainment category but this movie has some good Jokes..True Emotions and Life in it..So this movie can only be well appreciated exclusivly in theatres] The review is my personal opinion about the movie this may vary with your views....il Rate 3.5/5..
Vaishnav Vysh
Watched Action hero Biju , A well justified Tagline "A Ride with a Police Officer' , A Realistic Portrayal of a cop's Life. it is definetly a journey with a Police Officer and it defines that Policemen are not someone with super natural abilities & powers.. they are also human beings.. I recommend this movie because People should know the life of a police officer & What all situations he come across in his daily life , over all the film may not appeal to all , despite some flaws, its definitely a worthwatch ,& Do watch it with your family
Ganesh Raj
Action Hero Biju is an absolute treat. Loved every minute of it. Super proud of Nivin Pauly, Alex J Pulickal for showing us the realistic side of being a police officer. Go watch it friends and prepare to get entertained. Lots of laughs, lots of fun and many hard hitting moments. Biju is a thorough entertainer.
Muhammad Adhil
#ActionHeroBiju Liked it. Not a regular cop story of punch dialogues and stunts. Very realistic and gripping 4 me. Not everyones cup of tea. Nivins dialogue delivery cud've been better. But wise selection of role after many easy-go-lucky roles. Kudos to abrid shine for sticking onto his realistic narrative without any deviations. 2nd half emotionally well written.
Govind Reghuvaran
Action Hero BijuA light hearted,simple movie which keeps you engaged throughout the first half but fails somewhere in the second half. Verdict :: The movie maynot appeal to all . Despite of some flaws it is definitely a worthwhile effort .
Hari Kumar
‪#‎ActionHeroBiju‬
It's Nice To See nivinpauly After Premam.It was a Ride With Police Officer.Realistic Portrayal about a cop.Realistic Comedies,No Story in First Half,But Damn Good Screenplay makes Film Interesting. Mass Scenes and Dialogues created The First Half Thoroughly Enjoyable.2nd Half Full of Messages To the society. Realistic Problems in the society. Uninterrupted Climax.Little Draggy Too.Heroine Has Nothing To do,Just Calling That's it.Cinematography classic,Superbly Shooted.Screenplay 2nd Half Little Bit Dull.Direction Good.Top class BGM.Casting also Good.

‪#‎Positives‬
NivinPauly
Casting
Screenplay (1st Half )
Direction ( Okayish )
BGM
Cinematography
Fully Realistic
1st Half
Comedies
Message

‪#‎Negatives‬
Non Importance To Heroine
2nd Half
Screenplay for 2nd Half
Climax
Draggy In 2nd Half

Verdict : Okayish
Rating : 2.8/5
Jithin Lal
Action Hero Biju ❤
Congrats Director Abrid chettan and full crew and my friends Alex J Pulickal Such a great visual work for a realistic story.
Ajmal Kolumbil
Action Hero Biju - A One time watchable realistic flick
Manu Veevu
expectations were high aftr the huge success of ‪#‎Premam‬ & this film has satisfied a lot. 'Ride with a police officer', in fact it was a full length fun ride. cool entertainer
Aswin KS
Action Hero Biju unveils the story of the police officers & their life. We have seen Police men doing super actions & dialogues before in cinema, But Biju will take you to an actual police station & its ambience. The movie goes through how Inspector Biju Paulose solves out his received petitions one by one & Abrid Shine has shown us in the most realistic way. Action Hero Biju is a good way to know Police officers,their life & their day to day events. Now one MAJOR PLUS POINT in the movie is we see very less trained movie artists ..like Nivin,Suraj Venjaramoodu,Prajod,Joju etc.. Others are mostly actual life people their performances are very realistic..especially humors. Suraj Venjaramoodu & Megha Nadan both have given excellent performance. Now about Biju Paulose.. I can't say Nivin Pauly has handled Biju effortlessly.. he has took effort & we need to give applause for his effort.. Anu Emmanuel though didn't have much portions..She is also OK.. and All other cast did well especially Joju George

Technical part is good..
At the End ..
ACTION HERO BIJU is definetly a Journey with a Police Officer and it defines that Policemen are not someone with super natural abilities & powers.. they are also human beings.. I recommend this movie because People should know the life of a police officer & what all situations he come across in his daily life ! Go watch it with family
Nandulal Sg
If u are looking for a realistic movie with a police officer as protagonist, pls dont miss ACTION HERO BIJU.... Suraj Venjaramoodu uff wat a performance...Abride shine just explored the talent in him... he just suprised with his show...National award is the smallest felicitation he could get for his talent....deserves some thing beyond this.. Abrid ShineHatss off to ur hard work and reasearch for bringing out a character like biiju in an atmost realistic way....
Mohammed Nashrin
Watched #ActionHeroBiju Movie Just Like The Tagline 'A Ride with PoliceOfficer' Nivin & Supporting Cast Abv avg Flick 3/5 Verdict-BB
Ranjith Meleppatt
Action hero Nivin (Biju) !! What a movie !! It's gona be a super duper hit !!! Everyone did justice to their characters !! Don't Mis it
Bipin Thomas ‏
#ActionHeroBiju Indeed 'a Ride with a Police Officer'. Realistic portrayal of a cop's life. Well done @iamNivinPauly & the Team
Sam George Kururvilla
3.5/5 for Action Hero Biju a comedy filled with punch dialogues... A life story of a police official.... but new gen youth must watch also their parents.... wat is happening to the youth of Kerala
Nithish Vfc
Watched ‪#‎ActionHeroBiju‬
Wow ! A natural Cop Story . ‪#‎Nivin_Pauly‬ Takes a Serious Cop Role in This movie . Screenplay Was So Natural nd Mindblowing Sequences .‪#‎SurajVenjaramood‬ Suprrrb Awsm Acting .. He is not as an Entertainer . Hearttouching Dialogues .. ‪#‎NivinPauly‬ totally Zerox of ‪#‎KaakKaaka‬ movie‪#‎Surya‬ Look. The movie Dedicated to all ‪#‎Police‬ officers _/_
Ma rating - 3.5/5 . Must Watchable Movie ..

Raaj Prabavthy Menon
Action Hero BIJU shiningggg... ⭐⭐⭐⭐⭐
Loved the movie. Very realistic police story in recent times.
Kalakkan performance from Nivin Pauly baby u rockdd. Abrid Shineell directed machane. Joju George urajettan , meghanathan all of you guys just behaved so well in the movie. Eduthu parayenda mattoru kaaryam movie is so engaging ennullathanu, mathram alla oru scene polum fabricated ayi thonniyilla. Nadappu cinemayil ninnu thikachum maari oru anaavashya bahalangalum illathe... aanayum ambaariyum illaatha Oru nalla realistic police flick tht is wht "action hero biju" as a cinema . Assal performance from orupaadu new faces in the movie ennullathu cheriya kaaryam alla. Claps to those new faces and their performances in this movie.
Go watch this entertainment
Manu Thankachy
Action Hero Biju a ride with a police officer. Well Justified Tag Line. A Brilliantly Made Cult Police Drama. Nivin Pauly thus Breaks the Cliché Jinx With a Cult Character‪#‎SIBijuPaulose‬ an Entire tribute to the Police force. 4/5 Strictly A Police Thing
Paul Varghese
Action Hero Biju Is A Beautifully N Well Explained Life Of A Policeman...... Realism At Its Peak..... Superb Screenplay N Well Acted N Directed Movie......!!!! Congrats To The Whole Crew For This Movie....Strictly My Opinion.....
Nishin Vm
‪#‎BIju‬ paulose ‪#‎Entertainment_Entertainment‬&Entertainment. Marana film #‎Police_Team‬ Peace ✌✌ #‎must_watch‬ Achayan continues his hits
Anuraj Ramesh Achu
Good film...nivin pauly kidu as a police officer...inspirative story...climax camera works and fights kidu ..above average film..nivin's another hit
Arun Joson
#ActionHeroBiju Disappointing first half.. A series of random scenes... Comedy mathram kollam. Social commentary avanulla attempt ettilla!
Vishag Mc
Biju!!!! He is Brave, handsome,hardhitting and an emotional police officer!! This action hero biju is a perfect perfect movie!!!! Do not expect any mass in it , but you will see some emotional scenes!!! its a ride with a police officer for sure!!! Must watch!!!
Aarth Shine
Biju Paulose=Durai Singam
That's how i feel after watching the movie...
Nalla kandirikkenda oru padam...Ellarum kaananam Comedy oru rakshem illaa... ‪#‎Suraj‬ etta hatz oFF...ninga vere level aah
Sree Kanth
I have just finished watching Action Hero Biju. Here are the first thoughts that are poping into my mind right now : Have to say honestly that, as far as Nivin's current status is concerned, the much hyped cop role of Nivin turns out into a damb squib. Nivin's shift from a romantic hero to an action hero really gets me ! Its not at a police spoof tale as Abride stated. The department of humour wins here and there but offers the same slap stick type of comedies in some stages . In short, Nivin Pauly and Abride shrine have failed to produce a feel good entertainer as they vowed.
Anoop Awsm Prince
Watched ‪#‎ActionHeroBiju‬ ‪#‎Fdfs‬
Nivin Annan Vera Level. An Abv Avg Gud Entertainer Movie. A Ride With A Police. 1st Half Nd Movie Climax Portions R Really Awsm. MY rating 3.5/5
Rehan
Action hero biju pwolichu...expected a comedy movie...but abrid shine gave us a thrilling action 2 hours...with a good msg...my rating 3.4/5
Kiran Raj Augustine
Biju Paulose Pwollichadukkiii
‪#‎RideWithPoliceOfficer‬
Réal Life Of À Police Officer
Go With Least Xpectationss
Toni Joseph
ACTION HERO BIJU...avashyathinju kadhayum avashyathinju emotions um avashyathinju romance um aavashyathinju kalippu um samasamam cherthu undakkiya oru nalla cinema....Gadagadiayan dialogues um paranulla idiyum pratheekshichu pokunavar nirasharaakum...Oru sadarana policr kaarante nanmayulla jeevitham....Athu valare manoharamayi abrid shine direct cheythittund....Pinne paulychan nte abinayam...athu parayandallo.... As the film quotes:BIG SALUTE TO HEROIC PEOPLE...padam kandu aarum nirashapedendi varilla....Cinema kandu kazhinju marichu abiprayam ullavar vannu pongala ittolu....challenge accepted....Hats off to AHB team....!!
Harshid Muhammed
padam heavy mass and comedy 10/10
Muñ Na Mnr
"Action hero biju ". 1st show thana kandu. simple a police officer story. kadha ila ,valya twist illa .ee film title pola "A ride with a police officer" . .namml anubavichathum ,kandathum aya pala situations ee cinema I'll kannam. 1st half oru chiri I'll uda kadann pogunnu 2nd half kurch chiriyum ,kuduthal sentimental akunnu.. nivipauly nta abinayam kolaam police officer ayi varumbol oru variety feel chayiunnund .anyway A average movie.. my rating 3.5.
Chalakudytime Cinemas
Action Hero Biju first half superb,nice comedies and feel natureality plice life:::::: Abrid shine nte mikachoru attempt enne ethine viseshipikam. police station il undakunna sambangalum avarude dutyum realityode present cheyyan saadichitunde. Main aayi oru story chithrathine ellathe poyi. Bad bgm film nte flow nashipichu. Surajettan thante role super aaki. Oridinary audiance padam accept cheyyan chance ella. Totally an avg movie. Detailed review update soon. My rating 2.5/5::::::
Jithin Kc
1st half ...super....
Actionnnn.....inn.action
comedy ikkk comedy
kidu ...storyy....
wat is police watch from this movie