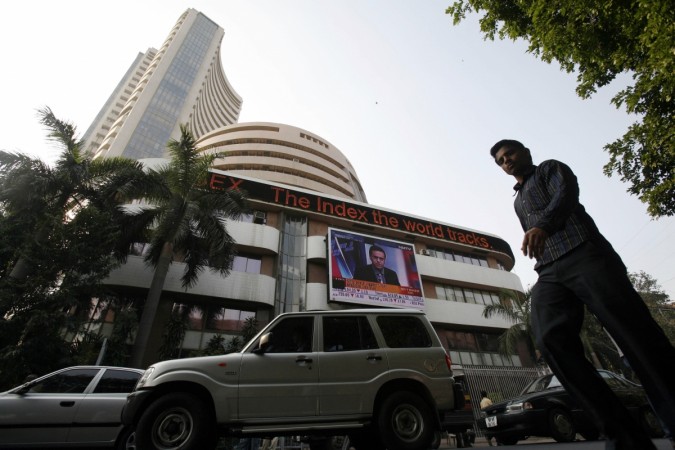 Indian stock markets consolidated their last week gains on Monday with the 30-scrip benchmark index — the S&P BSE Sensex — gaining for the sixth straight day to end 134 points higher at 27,279. The 50-scrip NSE Nifty closed at 8,371, a gain of 42 points.
Top Sensex gainers included Adani Ports, ONGC and ICICI Bank, while the rally on the NSE Nifty 50 was led by BHEL, Adani Ports and Tata Motors.
Shares of many government companies hogged the limelight. The S&P BSE PSU index gaining 1.79 percent on the bank of a sharp rally in state-run bank and energy stocks. Allahabad Bank (up 8.50 percent), Punjab National Bank (7.13 percent), Indian Bank (7.06 percent), ONGC (3.43 percent) and Power Finance Corporation (2.93 percent) were the big gainers in the sectoral index.
The shares of information technology (IT) services companies gained in the range of 1 to 8 percent on Monday on Indian stock markets, reversing a losing streak that lasted almost a week due to possible impact on their revenues and profit margins after Britain decided to leave the European Union (EU).
At around 11.10 a.m., the top-most gainer was Zensar Technologies, up 8.09 percent at Rs. 1,057.90. The stock gained after a brokerage recommended a "buy" rating for the stock to Rs. 1,300, citing a range of reasons, the most important being the change in the company's business model.
"Zensar has been shifting its focus from traditional IT services to Digital, where the traction has been evidently moving the needle in its overall performance. Contribution of Digital, as a % of revenue, has increased from 5% in FY14 to 27% in FY16, half of which was added because of the acquisition of Professional Access. The company expects it to reach 30% in FY17," Motilal Oswal Securities Limited said in a note on Monday.
Frontline IT stocks such as Infosys, Tech Mahindra and Wipro were also trading with gains, though not as high as mid-cap stocks.
Infosys was up 1.73 percent (Rs.1,192.35), Tech Mahindra 1.83 percent (Rs. 521) and HCL Technologies was trading with gains of 1.77 percent at Rs. 744.35.
A financial services firm has estimated that IT companies would post revenue growth in the range of 2 to 6 percent for the first quarter ended June 2016, with HCL Technologies likely to outperform others.
"We estimate the top-4 IT players—Tata Consultancy Services (TCS), Infosys, Wipro and HCL Technologies (HCLT)—to clock 2.0-6.6% QoQ revenue growth in Q1FY17. While we expect HCLT to lead the pack with 6.6% revenue growth (3% CC organic), Infosys is likely to take the lead on organic growth front with 4.2% spurt," Edelweiss Securities Limited said in a note.
The Sensex was up 210 points at 27,355, led by ONGC, Tata Motors and ICICI Bank. The rally was driven by Asian equities that opened with gains.
European and American stock markets ended Friday with gains, shedding off Brexit fears.
"U.S. stocks gained for 4th straight daily gain on Friday, with Dow and S&P reporting their best week this year as stocks clawed back some of the losses scored in the wake of tumult that followed U.K.'s decision last week to sever ties with EU," brokerage Angel Broking said in a note on Monday.
"European shares gained on Friday, lifted by expectations that ECB would take action to support markets in order to ease worries about fallout from UK's vote to leave EU," it added.
Story republished at 4.20 p.m. with additional details.