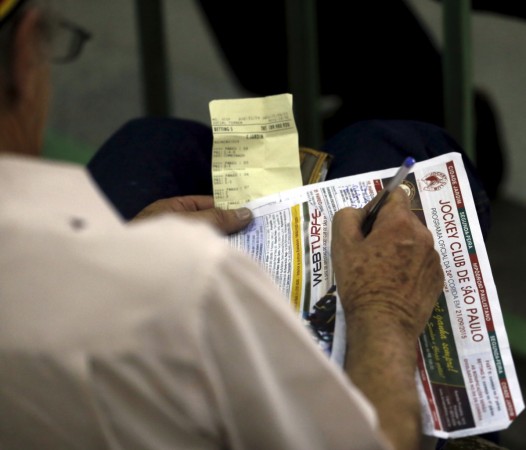 The demonetisation of Rs 500 and Rs 1,000 notes is surely a weight on the shoulders of the common citizens of the country, but emering reports now suggest that both legal and illegal gambling in India have been severely hit by the move.
In the form of legal gambling, casinos in Goa and horse racing that occurs in several leading metros such as Chennai, Kolkata, Bangalore, Delhi and Mumbai have taken a hit.
Horse Racing
While Madras Race Club cancelled races for Wednesday immediately after Prime Minister Narendra Modi's announcement on Tuesday, Delhi Race Club and Bangalore Turf Club cancelled their races scheduled for Thursday and Friday, respectively. The absence of cash also affected Kolkata races at Mahalaxmi Racecourse. Total collections already reeling under Bengal's heavy taxation policy dipped by about 45% from the usual Rs 8 lakh to around Rs 4.4 lakh.
Casinos in Goa
The five major offshore casino operators in Goa were caught off guard after the surprising announcement on November 8. Several industry insiders reported a significant dip in operations.
Even though some casino operators continue to accept the scrapped currency notes up to a specified limit, punters aren't willing to accept the winning proceeds as they are also being handed out in the outlawed denominations of notes of Rs 500 and Rs 1,000 denominations.
Illegal 'Matka' gambling in Goa
Those who play 'matka', the illegal, local form of gambling in Goa, were citing the same constraints imposed on casinos in Goa. Gamblers are apprehensive about accepting the old denominations of Rs 500 and Rs 1000 and are therefore reluctant while placing bets.
'Main Mumbai', one of the biggest 'matka' handlers known to generate crores of rupees in turnovers per day, suspended operations till November 20. A bookie from Baina disclosed to the TOI that though business on regular days would generate anywhere between Rs 50,000 to Rs 1 lakh daily, it is now limited to a paltry Rs 5,000.
However, reports also suggest that some 'matka' dens have taken it upon themselves to devalue higher currency denominations personally as they know that most gamblers or punters would rather lose a hundred or two on a daily basis rather than stand for hours in a queue to exchange or deposit the notes.
According to their newly tweaked rules, a gambler laying a bet of Rs 400 with a Rs 500 note is only entitled to the change of Rs 50 and those betting with Rs 1,000 notes have to play at least Rs 800 to get back Rs 200. Any lesser bets amount to a reduction of Rs 50.
Illegal Gambling involving Cricket and US elections
Three years ago, international auditing firm KPMG estimated cricket gambling in India to be a Rs 300,000 crore industry. Bookies based out of Ahmedabad, Jaipur, Indore, Surat, Mumbai and Delhi are known to operate this flourishing business.
The announcement on November 8, on the eve of the first Test played between India and England in Rajkot, has reportedly brought the industry to a grinding halt. But bookies and their clients with illegal accounts of foreign betting sites have not been hit by the government's decision.
"Ours is a cash-based business and the government's decision has hit us hard. There are millions of rupees in circulation," a Delhi-based bookie told HT.
Another bookie based out of Ahmedabad revealed the impact of the announcement on their betting operations.
"The demonetisation came one day ahead of the US presidential elections results, and as Donald Trump emerged the surprise winner it saved us from taking final bets. We halted payments to winners for now as we don't much valid currency notes but we will pay them in the near future," the bookie was quoted saying to the Time of India on the condition of anonymity.