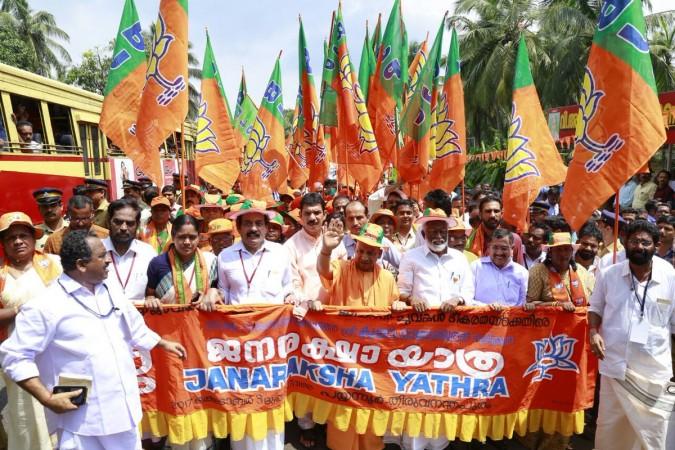 Uttar Pradesh Chief Minister Yogi Adityanath took a dig at the Left Democratic Front led by CPI-M [Marxist] in Kerala on Wednesday during Jan-Raksha Yatra (People's Protection). This march is part of a campaign initiated by BJP president Amit Shah on Tuesday, October 3 in Payyannur along with Kerala's BJP state president Kummanam Rajashekhharan.
Referring to the alleged murders of BJP and RSS cadres in Kannur and other parts of Kerala by CPI-M workers, Yogi backfired at CM Pinarayi Vijayan and the Left, terming the murders to be 'politically motivated killings'.
"As many as 120 BJP-RSS workers, 84 in Kannur alone, have been killed in the state since 2001, with 14 of them in the chief minister's home district", stated Adityanath.
Yogi also alleged that the increase in killings clearly shows that the 'killers are given protection'.
"The BJP is currently ruling on its own in 13 states and in four states it's ruling with allies, and in all these states the governments are not engaged in political killings. We are a party which believes there is no place for violence in democracy," he added.
Left leader and CPI-M General secretary Sitaram Yechury replied to Yogi's allegations in a press conference and said- "The entire cycle of violence was started by the Rashtriya Swayamsevak Sangh (RSS) on the day assembly election results were announced in Kerala last year. We will launch a nationwide protest against what RSS is doing in Kerala."
"People of Kerala know that RSS is not a victim. It is the RSS and its goons who are responsible for disturbing communal harmony in Kerala, but the people have not allowed them to succeed," said CPI-M leader Brinda Karat.
During his march, Yogi also raised concerns over 'love jihad' and blamed CPI-M's reign in the state for spreading 'Jihadi Terrorism'.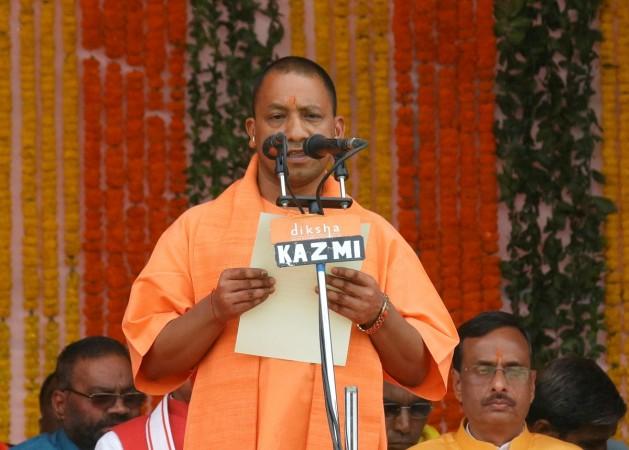 He said the BJP will not allow Kerala to become a land of 'lal salaam', a term used by Communists for greeting each other.
He also mentioned about the 25-year-old Hadiya (formerly Akhila Asokan), a resident of Kerala, who converted to Islam last year and married a Muslim named Shafin Jahan.
The Kerala High Court had cancelled the marriage of Hadiya and directed her to be under her parents' protective custody.
A Supreme Court bench headed by then Chief Justice JS Khehar had ordered an NIA probe on August 17 into the case, to find out if there are any links to the Islamic States in Syria. Since many individuals have fled the state to join the terrorist group IS, while a few converted to Islam.
Yogi strongly condemned the alleged ongoing forced conversions of Hindu women in Kerala and said- "Love Jihad is an alleged trend of Muslim boys tricking non-Muslim girls into marriage," Yogi added.
"Kerala government has not taken any effective measure to contain it. Now let NIA probe it. Doodh ka doodh, paani ka paani hone do (Let the truth come out)," said Yogi Adityanath.
The saffron-robed chief minister also criticised the Left Democratic Front's working principles and said they raise slogans of secularism; but in the guise of secularism, they are trying to make this state a hub of Jihadi terrorism.
"Love jihad is a dangerous trend. The Kerala government has not taken effective steps to check it. The Supreme Court has already passed an order on it and the NIA is investigating it," Yogi added.
CPI-M leader Brinda Karat lashed back at Yogi's comments on promoting 'jihadi terrorism' and said- "what baton is Yogi Adityanath to take? Their relay race is a race of violence, of terror, of intimidation, and of bullying because these are all encounter specialists".