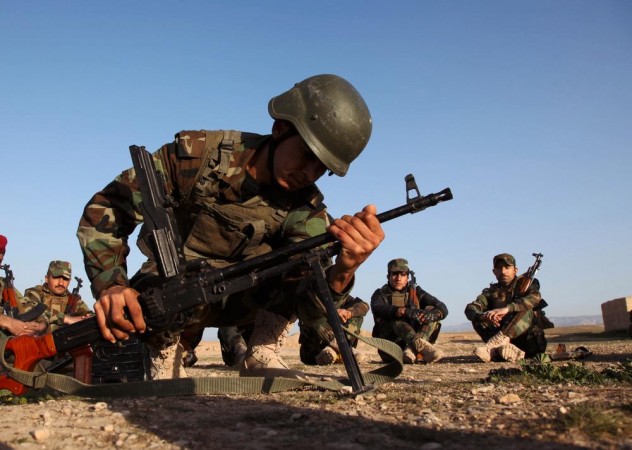 You might have heard about the plights of Yezidi tribe, the Iraqi religious and ethnic minority after the Islamic State (ISIS) invaded their areas. Trapped by the ISIS mercenaries, the members of the ethnic group were subjected to mindless cruelties.
The wrath of ISIS still continues on the Yezidis. An Iraqi woman who traveled to India gave this spine-chilling account of what they went through under the regime.
Also Read: ISIS militants trick starving Yazidi sex slave into eating her one-year-old son
Two Yezidi women have come to India along with some men to draw people's attention to their tragic life under ISIS. Among them, 30-year-old Hanifa Abbas Khalaf recounts the horror she faced in her village Katania.
In August 2014, the Yezidi villages were attacked by ISIS. Hanifa rushed towards the area near the mountains with her parents to take shelter. They were helped by their neighbors and went with them in their car. While coming back to get her siblings, Hanifa stopped near a house to take rest and drink water.
"I was about to reach the well when the ISIS arrived. They started firing gunshots, throwing grenades and pushed people inside the house," said Hanifa. Her 12-year-old brother somehow managed to escape. The ISIS took cars from neighboring villages and transported 60 women including Hanifa's five sisters to their camp. Men were forced to convert to Islam and those who didn't were brutally killed.
There were corpses all around her. Hanifa and the other Yezidis were in the mountains without food or water. Many died due to starvation, most couldn't be buried. With her family, Hanifa somehow managed to travel to Syria and from there to northern Iraq. Her parents were sick and she herself was badly injured.
After a few days, Hanifa's sisters contacted her. They spoke of the Yezidi women and that they were living in hell. Women in ISIS camps are handcuffed and exploited sexually. Hanifa received a phone call again from her sister who told her that she was raped by ISIS men. Her sister later died of internal injuries. Hanifa's father couldn't bear the loss and passed away in a state of shock.
Hanifa had promised her father that she would never leave her siblings alone again and shall try hard to find them. She didn't hear ever again from her nine-year-old sister but managed to find two other sisters. One of her sisters were forced to marry an ISIS man's son but was rescued later. The young girl also tried committing suicide but the ISIS man stitched her slit throat. After having recovered, she tried jumping from a building and is now in Germany for treatment.
Hanifa's mother, sister, and brother are now with her younger sister in Germany whereas Hanifa is alone in Iraq, looking for her sisters. Her 17-year-old sister has been shifted and has been put up for sale by the ISIS for USD 16,000.
ISIS, known for their brutality, marked new heights of cruelty after destructing the Yezidi villages. Men, women, children and even the elderly were not spared. Bodies were dumped in mass graves near the mountains. For younger women, the camp of the ISIS is sexual slavery. Girls are sold at high prices to militants, even online. There are women who are sold seven to ten times and it doesn't end here, their horrific journey continues and it becomes more cruel and gruesome, they recalled.