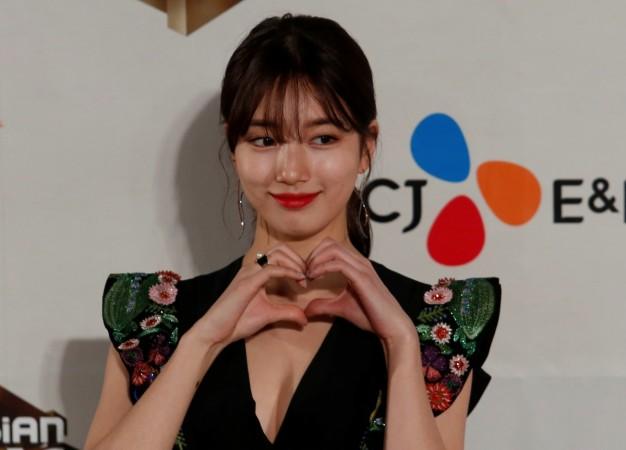 Former miss A member Suzy Bae has been embroiled in a controversy after she supported YouTuber Yang Ye-Won, who had said that she was sexually harassed. Now a studio has been planning to take a legal action against the South Korean singer.
Suzy recently signed a government petition "Hap Jung XXXX Illegal Nude Filming" to demand an investigation into the sexual harassment case of the YouTuber. She also revealed on Instagram that by signing the petition she wanted to help the YouTuber as a human being.
However, this good act of Suzy was hit by controversy after it was revealed that the location mentioned in the petition is occupied by some other studio and not the one Ye-Won mentioned in her YouTube video.
Once Picture studio, which is currently located at the mentioned address, clarified that they are not involved in the sexual assault case and the studio opened a day before harassment incident took place.
Suzy then took to her Instagram to apologise to the studio and say that she should have checked it carefully.
"I recently learned about a studio receiving damages due the change in ownership and studio name, which was [included] in the recent government petition that I signed in support for. It felt like there was more damage done because I had showed support of the [petition], and so I'd like to relay my apologies to the studio. Even though it was about doing something good, it's definitely my fault for not looking carefully. Even now, I feel like I must let people know that this studio does not have anything to do with this issue, which is why I am posting this. But still, apart from this, I hope that those who are seeking for the truth to be revealed about this case continue hoping for that," she said, according to Soompi.
Once Picture studio in Suzy's response issued a statement that Suzy's support to the petition marked them illegal and that an apology cannot make the entire incident vanish.
"Suzy says that she posted an apology. But we wonder if this entire incident will be forgotten with one word of an apology. It probably isn't all just Suzy's fault, but where should we get compensated for the damage that our studio has received through this incident? We wish for this to be a lesson on just how great the damage can be due to a celebrity's rash utilization of [their] influence. Naturally, the one who posted the government petition; the ones who circulated [the petition]; the cyber terrorists; the Blue House (The South Korean President's executive office and official residence), which has neglected the petition regarding defamation, and Suzy's responsibility will be going through the review of a legal representative and we will be taking necessary civil action," the statement read, according to the South Korean publication.
Meanwhile, Suzy's agency JYP Entertainment in a statement said that Suzy has apologised but the studio in response asked them to contact their lawyer. "We heard from the studio's side and from now on, we will also seek consultation from a legal representative and will move forward with their opinion," the statement read.