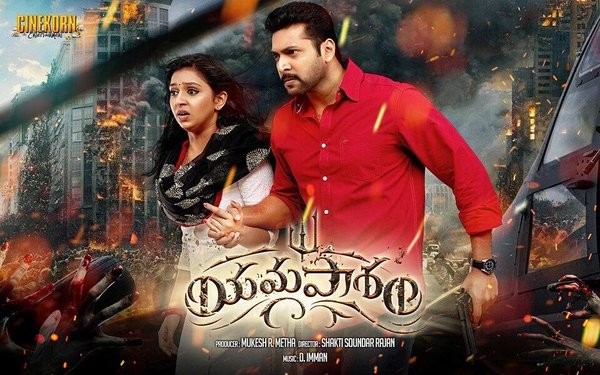 Director Shakti S Rajan's Telugu movie "Yamapasham" (Yama Pasham) featuring Jayam Ravi and Lakshmi Menon in the lead has received mixed review from the critics and audience.
"Yamapasham" is the dubbed version of Tamil zombie thriller "Miruthan", which happens to be the first South Indian film of its kind. The movie is about a cop and a medical professional who come to rescue of the people of a city when a chemical experiment goes wrong and causes a virus to turn human beings into zombies.
Karthik (Jayam Ravi) is a traffic officer in Ooty and is taking care of his teenage sister. He is in love with medical professional Renuka (Lakshmi Menon), but never proposes her. He teams up with Renuka and a group of doctors to go to the adjoining metro city to find a vaccine for the infection after the zombie infection spreads throughout the city. But he is bitten by a zombie and turns into one.
Critics and viewers are full of praises for the director for picking a unique genre. Shakti S Rajan successfully holds the attention of film-goers with some thrilling moments throughout the flick. Jayam Ravi and Lakshmi Menon's performances, Kali Venkat's comic timing, the background score and the visual effects are among the highlights of the movie. Continue to read "Yamapasham" movie review by critics and audience:
123Telugu Ratings: 2
Yamapasham fails to impress the audience. Although, the concept is completely new to the south, the makers have completely faltered in churning out a thrilling ride. Also, the ending will especially leave the viewers in disgust. Finally, if you have nothing better to do and are still hell bent on watching this zombie flick, go in at your own risk.
Nitin Chakravarthy ‏@Nitinreddy1111
Thrilling 1st half #YamaPasham #Miruthan @actor_jayamravi #YamaPasham / #Miruthan 2nd half bogs down with repetitive scenes,over the top climax fight & abrupt ending..Still An okay thriller..Decent #YamaPasham had huge potential for thrills but the director didn't utilise it to the required extent..There're good thrills but were limited #YamaPasham A decent Zombie thriller..Watch it for its fresh concept & some good thrilling moments. Very Bold attempt Bro @actor_jayamravi
Sai_satyanarayana ‏@Satyasai24x7
#YamaPasham Feast for zombie movie lovers @actor_jayamravi got his recognition in Telugu with a bang! #Miruthan
Razhmi ‏@razmihere
Jst after Watch #yamapasham.. Just wanna say We want #yamapasham2 @ShaktiRajan sir n for sure @actor_jayamravi bro in the movie. MINDBLOWING
Sachin Joseph ‏@munna8494
@actor_jayamravi watched yamapasham..wat an entry to Tollywood bro..loved it.. Congos..waiting for yamapasham2..zombies mode activated..
Ajay Ruthvik ‏@AjayRuthvik
Just watched #YamaPasham i never before saw that type mvi in telugu.. Hope u will get many hits in telugu.. @actor_jayamravi