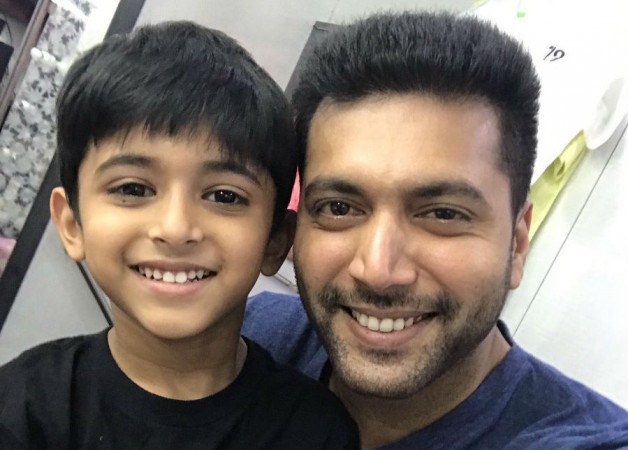 After making fans to guess about his new announcement on Twitter, Jayam Ravi revealed on the social networking site that his son six-year old Aarav is all set to make his acting debut. Yes, the kid will be acting with his doting father in upcoming Tamil movie Tik Tik Tik.
Tik Tik Tik is a space thriller which is written and directed by Shakti Soundar Rajan, who had directed Jayam Ravi's zombie movie Miruthan. The movie title is borrowed from Kamal Haasan's yesteryear movie of the same name, which was directed by Bharathiraja three decades ago. The major part of the upcoming Tamil flick will be shot in a specially erected set in Chennai.
Coming to Aarav, Jayam Ravi has not revealed about what role his son is playing in Tik Tik Tik. However, the fans and friends of Jayam Ravi has welcomed the news and wished the kid all the success.
Below, we bring you the comments posted by the well-wishers of Jayam Ravi:
Archana Kalapathi: @actor_jayamravi Aarav has grown up so quickly. Best wishes to both of you. Aarthi must be super excited about this.
Soundarya Rajinikanth: Aarav is so adorable here's wishing you both all the very best. Aarti must be so proud.
Resul pookutty: @actor_jayamravi ohhh wahhh congrats to you and the junior.... it's a blessing! Take good care of him! Regards to the proud mother!
Arvind swami: @actor_jayamravi @ShaktiRajan Congratulations Aarav! Lots of love and best wishes from all of us. Rock it!
Hansika: Aww that is so cute ❤️ a star in making ⭐️ God bless
Riteish Deshmukh: God bless my friend @actor_jayamravi - #Aarav has stolen the thunder. #TikTikTik
Genelia: How cute lil Aarav is a star... @actor_jayamravi this is really special
Pooja Kumar: @actor_jayamravi @ShaktiRajan congrats to you and the family!! What a cuteee he is!!
Trisha: @actor_jayamravi @ShaktiRajan OMGmy lil man is a starrrr alreadyyyy.... when wil i have the honour of working with him ?
Brinda Prasad: Awww how sweet!! @actor_jayamravi good luck to him! he's super cute!
Arun Vijay: Hey!! Super news Bro.. wishes from our end to the little star .. God bless..
Aishwaryaa R Dhanush: Sending all my wishes and love to this adorable looking bub !!! All the best to you sir .. #MomentsToCherish #MemoriesForLife
Udhayaa: @actor_jayamravi super news..welcome junior Ravi..(Aarav) ..sure he l rock.. all d best..god bless Aarav ..
Amala Paul: @actor_jayamravi @ShaktiRajan sooo cute !! Good luck to both of you
Jayam Ravi: Happiest day of my life! My son Aarav n I are acting together in #TikTikTik !!! God bless him @ShaktiRajan
Khushbusundar: My 2 laddoos together in one frame..too much of cuteness..overloaded..My little Aarav is the cutest.