Xiaomi has an extensive product portfolio in India, which also includes smart televisions. As the nation celebrates New Year, Xiaomi has a surprise for all the fans out there who are looking to upgrade their TV. Prices of three Mi LED Smart TVs have been dropped in India to make them further appealing to the consumers.
Xiaomi's 49-inch Mi LED TV 4A Pro, 32-inch Mi LED TV 4A and 4C Pro have received generous price cuts in India as a result of the government reducing GST on TVs from 28 percent to 18 percent. The price cuts are permanent, giving perfect excuse for consumers to bring home a new TV for new year.
Following the price cuts, the 32-inch Mi LED Smart TV 4A will be available for Rs 12,499 instead of Rs 13,999, the 32-inch Mi LED Smart TV 4C Pro for Rs 13,999, down from Rs 15,999 and 49-inch Mi LED TV 4A Pro for Rs 30,999, which is Rs 1,000 cheaper. The new prices are in effect and consumers can purchase the TVs with their reduced price tags from all platforms online and offline.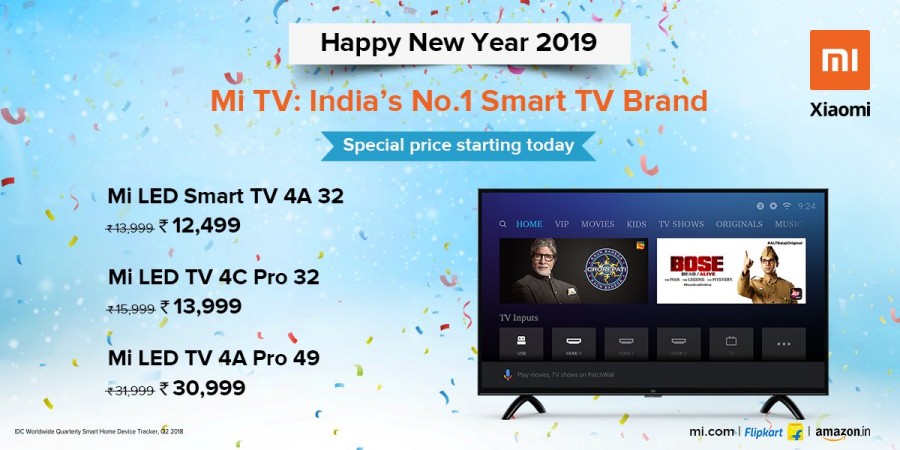 The price cuts follow a recent price hike on Mi LED TV 4C Pro (32-inch) and Mi LED TV 4A Pro (49-inch) due to rupee depreciation. The 32-inch Mi TV 4C Pro's price was hiked by Rs 1,000 while the 49-inch TV model received Rs 2,000 hike. The latest price cuts bring back the original pricing before the rupee depreciation effect.
Xiaomi has achieved huge success in India with strong sales of almost all the products that it launches. From smartphones to Mi Band fitness trackers and smart televisions, the company has achieved number one spot with staggering sales. The company confirmed that it has sold over a million Mi TVs in the last nine months since the TVs were launched in India.
Affordable pricing combined with premium spec-sheet has helped Xiaomi maintain its dominance over rivals. The company's foray into the TV segment in India disrupted the category, which was largely dominated by Samsung, LG, Sony and other premium brands. The latest price cuts are only going to help Xiaomi boost those sales numbers.