Chinese smartphone manufacturers have proven their worth in markets outside their home by adopting local strategies required to succeed. Countries like India, South Asia and Africa helped the Chinese brands thrive despite stern competition from biggies like Samsung and Apple.
While the Chinese companies collectively succeeded in acquiring the lion's share in the global smartphone market, Apple failed to strike a similar momentum, Counterpoint's report on Wednesday revealed. In Apple's defence, this isn't the strongest time of the year for iPhone maker, which usually hits the peak during the final quarter when new flagships are launched.
Key players from the Chinese consortium include Xiaomi, Vivo, OPPO and Huawei that attracted the fastest growth YoY. The Chinese brands collectively accounted for a record market share of 48 percent globally, which is more than any brands from other geographies.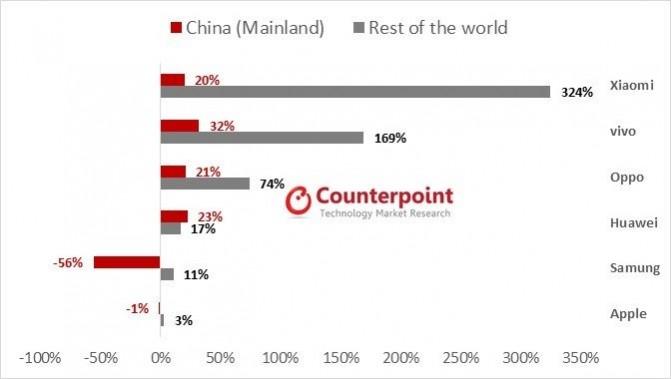 "Chinese brands have been successful in not only cementing their positions in their home country but also managing to expand beyond mainland China at the same time," Tarun Pathak, Associate Director, Counterpoint Research, said in a statement. "They have backed their channel strategies with aggressive marketing spend in both above-the-line and below-the-line campaigns," he added.
The Counterpoint report revealed that Xiaomi recorded the highest YoY growth from Q2 2016 to Q2 2017 with 60 percent. Following Xiaomi's lead is Vivo with a staggering 45 percent YoY growth, then OPPO and Huawei with 33 percent and 20 percent growth respectively. In terms of growth rate, these brands grew at a faster pace than Samsung and Apple combined – which are the smartphone leaders in the world.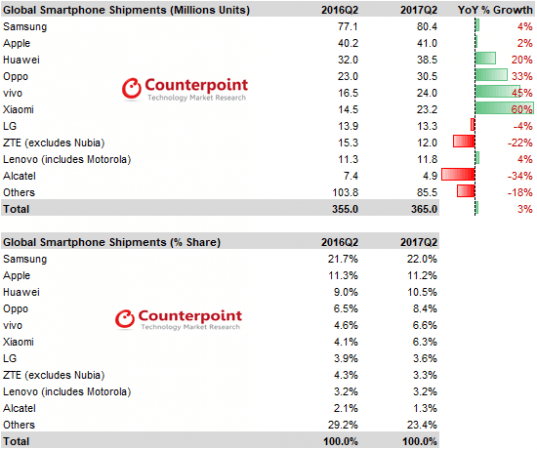 Samsung, which led the charts, shipped 80.4 million units in Q2 2017, making a 4 percent increase from the same quarter a year ago. Apple recorded a 2 percent increase during the same quarter, growing from 40.2 million units shipped in 2016 to 41 million in 2017. Apple's global market share declined due to seasonality, the report noted, adding that iPhone sales grew just 1 percent YoY.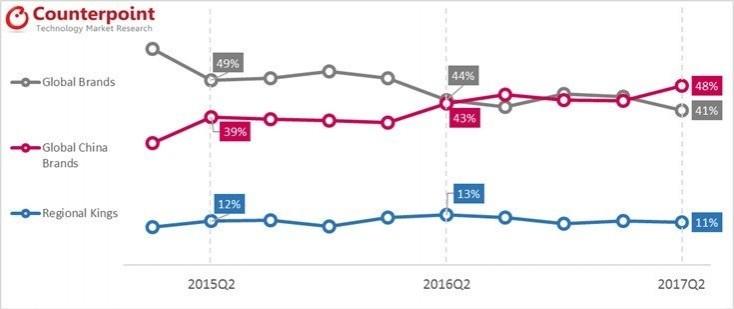 In terms of smartphone market share, Huawei follows the lead after Samsung and Apple with 10.5 percent. OPPO, Vivo and Xiaomi acquire 8.4 percent, 6.6 percent and 6.3 percent globally, putting behind LG (3.6 percent), ZTE (3.3 percent) and Lenovo (3.2 percent).
The global smartphone shipments grew 3 percent YoY, hitting a peak of 365 million units during Q2 2017.